Home
About Me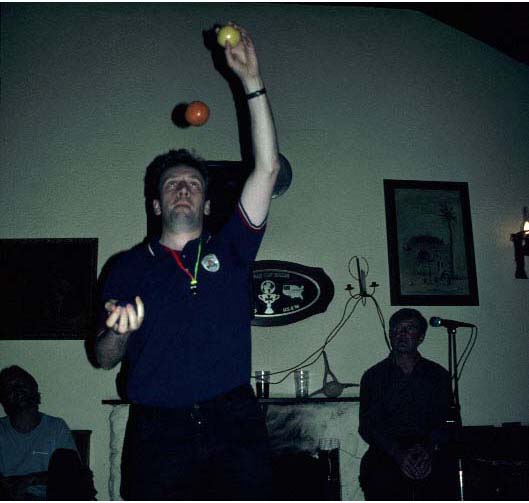 Onstage in Letterfrack, May 2001
I was born in 1966 in Perivale, Middlesex, in the same hospital as Rick Wakeman. Like Rick Wakeman I play keyboards. Well, actually he's a bit better than me, and he plays rock whereas I play Baroque!
I started juggling in about 1987, after watching a children's T.V. programme while at university. It was another ten years until I first went to a workshop! There I learned to juggle clubs and started passing. Three years later I discovered conventions, my first was BJC2K in York, in April 2000.
My main juggling interests are three ball tricks, which I love to trade (you show me yours and I'll show you mine!), siteswaps (I can do quite a few four ball siteswaps) and club passing. But I also like to play with other toys!