2004
Leather Bottle
My third A&S entry, I received a 1st.
It went to kingdom and received a 2nd.
<![if !vml]>
<![endif]>
Documentation
          The evidence that I found for the existence of leather bottles, and bottle making is mostly textual.  There is however several physical examples in existence, but I was unable to acquire any photos or documentation on them.  The one physical example that I did find sufficient evidence and description was the Mary Rose bottle, which I will discuss later.
          The first textual documentation, although pre-SCA period, is from the Babylonian Talmud Tract Abuda Zara, Volume X. Chapters II, and IV.  I include this in my documentation mainly to illustrate that leather was in use as a liquid holding device prior to 600 – 1600. 
"Levy said: There are three kinds of wine to which the case of uncovering does not apply--viz.: (a) wine that is both sweet and bitter; (b) that is so strong that it breaks each leather bag, and (c) wine that will become sweet when warmed in the sun."  (Chapter II)
"If one leather bag full of wine was placed in another, mouth downward, it is considered two seals, but not, if mouth upward."  (Chapter II)
"Their enameled pitchers, after twelve months of non-usage have elapsed, are allowed according to R. Habiba b. Rabha.  R. Habiba said: And the same is the case with their thick leather bags."  (Chapter II)
"The wine of leather bags carried by a heathen who is followed by a supervising Israelite, is allowed if it so fills the bags that it cannot shake at all, but if not so full, it is forbidden."  (Chapter IV)
"R. Ashi maintains that even the wine in a leather bag that is not full cannot be made prohibited by shaking, for it is not customary to offer wine by shaking."  (Chapter IV)
There are also several references to leather wine skins in the Bible, Gospel of Mark. 
          My other documentation comes from the English guild system.  Although the Bottlers Guild is no longer a separate active guild, they are however a part of the "The Worshipful Company of Horners".  The bottlers were incorporated into the Horners guild in 1476 because of the growing glass business (http://www.horners.org.uk/). 
          An interesting note, although not within SCA period, is the Arms and Crest of the company that was granted in 1992.
<![if !vml]>
<![endif]><![if !mso]>

<![endif]>
Blazon
Argent on a Chevron, between three Leather Bottles the two in chief having their interior ends manifest all Sable a like number of Buglehorns stringed also Argent.  And for the Crest upon a Helm with a Wreath Argent and Sable Issuant from a Circlet its upper edge invected of five cusps Argent charged with a representation of the Polyethylene Molecule Sable a Ram guardant Argent armed and unguled Sable supporting between its forelegs a representation of the Benzene ring also Sable enfiling the base of a Narwhal tusk all Argent ~ the upper end resting on the dexter shoulder of the same

<![if !mso]>

<![endif]><![if !mso & !vml]> <![endif]><![if !vml]>

<![endif]>                                   <![if !vml]>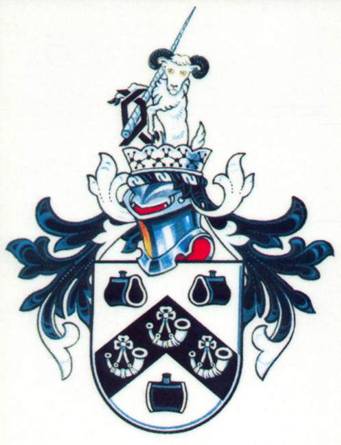 <![endif]>                              

Also mentioned in their Grant of Arms and I quote "Most Excellent Order of the British Empire upon whom has been conferred the Decoration of the Military Cross Earl Marshall and Hereditary Marshal of England that on the Fifth day of March 1475/6 the Company or Mistery of Horners of London and the Company or Mistery of Bottlemakers of London were at their own request united to be one Mistery by the name of the Company of Horners of London becoming generally known and styled as the WORSHIPFUL COMPANY OF HORNERS OF LONDON" (http://www.horners.org.uk/pages/Heraldry/grant.html). 

Moving on to another document we come to the illumination "Hunters pausing for refreshment" from the Gaston Phoebus, Book of the Hunt France, Paris, 15th Century.

The physical object that I found was the Mary Rose bottle.  The Mary Rose was built between 1509-1511, and sank in 1545.  When recovered, a leather flask type bottle was found in the wreckage (Appendix III).  As you can see the bottle is carved with intricate designs as well as formed ridges along the body of the flask. 

          There are several other medieval leather flasks/bottles among the collections of the Museum of Leathercraft outside of London, and supposedly a few in the collection of Greenfield village in Dearborn Michigan.  I could find no other information other then that they exist. 

         

*Side Note*

                   I had the opportunity to get a good look at several African leather vessels in the Children's Museum of Indianapolis.  Although post-SCA period, around 1800's, the experience to see the construction was valuable.  I would guess that the construction of the African vessels was similar to medieval construction

Construction

Period Materials:                                                  Non-period Materials:

7 – 8 oz. Vegetable tanned leather                        Tandy antique leather dyes

Waxed linen cord                                                  Cova Color paints

Leather sewing needles                                         Paraffin wax

Awl                                                                       Dowel rod

Wooden Mallet

Swivel knife (modern equivalent)

Tooling tools (modern equivalents)

Sand

Round stick

Bee's wax

          The non-period items that were used in the construction of the flask were the dyes, paints, and the Paraffin.  Most of the documents that describe the waterproofing process of the bottles say to use either bee's wax or pine pitch.  The problem that I had with these was that I didn't feel confident in the pine pitch being used in something being exposed to food, and bee's wax is expensive, I also found that paraffin is more durable after some experimentation with both types of wax.  So, I used a food safe paraffin wax, commonly used in canning and sealing corks, I did however uses Bee's wax to seal the mouth of the flask because I felt that the seal was tighter with Bee's wax.  The modern dyes and paints were used out of convenience. 

          I bought the leather from the modern "leather seller" Tandy Leather.  Leather sellers have been an organized business since about 1444 under a charter from King Henry VI in the city of London (http://www.leathersellers.co.uk/index2.html).

          The first step is to find a bottle design and cut two identical pieces.  After the pattern is cut, then the holes are marked, then punched using an awl or small nail.  If a pattern is going to be tooled onto the bottle it should be done before the pieces are sewn together.  The design and color scheme for this bottle is my own variance on the anamorphic knot work found in the Book of Kells. 

After the holes are punched and the design is cut and tooled the sewing begins.  I hand stitched the pieces using a long piece of waxed linen thread with a needle at each end, passing both needles through the holes (this stitch is called a saddle stitch).  The stitch is then tapped down with a mallet to flatten out the seam. 

The leather is then wetted, Stefan's Florilegium says to soak the leather thoroughly, but I found that this makes the leather too flexible and can cause deformation.  Now that the leather is somewhat flexible, the mouth of the bottle should be pried open and a round dowel or preferably a funnel.  From here the bottle is filled with sand to fill out the shape and let dry, I let my bottles dry on a window ledge in the sun. 

I used the sand method instead of the wooden mold method because with the sand method I felt that I had more control over the shape of the bottle.  With a wood mold the shape is set, with sand you can add more or less, and form the bottle to how you like it.

Once dry, stain is applied, and left to dry.  When the dye is dry, then I painted the design with the Cova color.  Once the paint is dry the sand is dumped out and the walls scraped clean. 

When all the sand is out the bottle is ready to be sealed with wax.  The wax is melted in a double boiler on the stove.  Once the wax is melted the funnel is placed in the mouth of the bottle and some wax is poured in to seal the seams then poured out.  I let the bottle sit for a while, about 2 or 3 minutes, and then I sealed the walls of the bottle.  When the bottle has been totally sealed, I let it sit and dry, once dry it's tested for leaks, if it leaks, it is sealed again.

The final step is to make the cork.  Using a ¾ inch dowel rod cut to approximately 1.5 inches I hand carved the wood to fit into the mouth of the bottle comfortably.  The cork is sanded then stained/sealed with a commercial wood stain.

The process is fairly time consuming, with the cutting, sewing, tooling, staining, painting, drying, waxing, and testing.

Bibliography

Demmary, D. Kent, Antique Leather Drinking vessels, Bosley Corp, Indianapolis IN, 1976

ENGLISH DRINKING VESSELS: Black Jacks, Bottells and Other Items, (Part 1: Black Jacks), by Modar Neznanich, http://www2.kumc.edu/itc/staff/rknight/Jacks.htm

         

BABYLONIAN TALMUD, translated by MICHAEL L. RODKINSON

http://www.sacred-texts.com/jud/t09/index.htm#zar

Gaston Phoebus, Book of the Hunt, 15th Century. (BNF, FR 616) http://www.bnf.fr/enluminures/manuscrits/aman10/i5_0040.htm

Guild of Educators, The http://www.guildofeducators.co.uk/city.htm

Mary Rose From Wikipedia, the free encyclopedia,

http://www.wikipedia.org/wiki/Mary_Rose

On Board the Mary Rose, http://www.maryrose.org/lcity/cook/men3.htm

Stefan's Florilegium, http://www.florilegium.org/files/MEDIEVAL-LIFE/Gram-Letter3-art.html, and http://www.florilegium.org/files/BEVERAGES/lea-bottles-msg.html

Thomas Tanner of Ely, The Leather Bottle, bottle, botteil, flask or flackett,

http://www.adamastor.za.org/chronicler/stormtidings/archive/as/bottle.html

Worshipful Company of Horners, The, http://www.horners.org.uk/

Worshipful Company of Leathersellers, The http://www.leathersellers.co.uk/

<![if !vml]>

<![endif]>    <![if !vml]>

<![endif]>    <![if !vml]>

<![endif]>