2002
Scottish Targe
2002 was my first A&S entry.
I received a 3rd and did not go to Kingdom
<![if !vml]>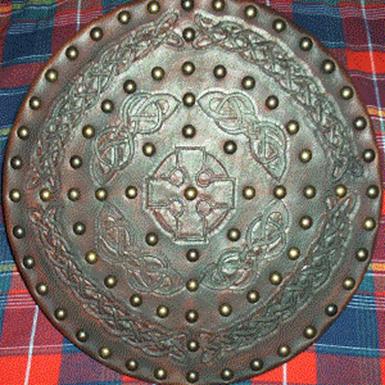 <![endif]>
Documentation
The Targe or Target is a round shield that was used in Scotland, as well as many other areas, from around the 12th century to as late as the 19th century (Stone, 605). There is an example of a targe from Italy c. 1600 displayed in the Chicago art museum but it's construction and decoration is different from the Scottish targe (Karcheski 56). The construction of the Scottish targe is a round base of wood with leather stretched over it (Ffoulkes 101) which was tacked down using rounded top nails and then carved with intricate designs (Orel 159). The back of the targe was sometimes covered with deerskin and had one or two straps to hold the shield in place and the other used as a handle (Stone 605).  The size of the targe varied from twenty inches in diameter to larger (Stone 605). And sometimes had a center spike as large as ten inches in length that was screwed into the center (Stone 605).
<![if !vml]>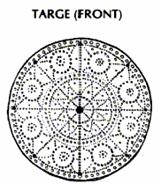 <![endif]><![if !vml]>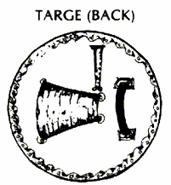 <![endif]>
During the wars between England and Scotland, Scottish Parliament in 1456 officially added the targe to the weapons and armor of the men who were not archers (Phillips 61).  In May of 1471 Scottish Parliament issued a decree to the Barons that "each yeoman who 'can nocht deil witht the bow' was to have 'a gud ax and a targe of leddyr to resist the schot of Ingland'" and in April of 1481 the parliament again tried to issue a standards of weapons and this time the "prototype shields in leather and wood were to be sent to each sheriffdom so that they could be copied by those armed with axes rather then spears" (Nicholson 475,492).  In 1574 an Act of Parliament officially ordered that the arms and weapons of the highland and lowlands be distinguished because the Highlanders preferred the ax and targe and the Lowlanders the spear and pike (Phillips 62). 
The Targe that I have reproduced here is based in wood approximately twelve inches in diameter, reminiscent of the bucklers which were in use from the 13th to the 17th century (Stone, 151).  It is covered with 6-7 ounce vegetable tanned leather, the studding is upholstery tacks because they cost less then leather studs, but are relatively the same in appearance and function.  The design was applied freehand and cut using a 2-1/4" swivel knife with 3/8" straight blade, before embossing the design I used water to case the leather,  I used a leather working beveler and wood mallet to emboss the design. It was stained using medium brown Fiebing's brand dye.  It took around 6 hours of work to draw the design and emboss, and around 1.5 hours to stain and tack down. 
Bibliography
Ffoulkes, Charles, The Armourer and His Craft From the XI th to the XV th Century, Dover Publications, INC., New York, 1988
Karcheski, Walter J., Arms and Armor in The Art Institute of Chicago, Bulfinch    Press Brown and Company, 1995
Nicholson, Ranald, Scotland: The Later Middle Ages, Barnes & Noble,
New York, 1974
Orel, Harold, et al. The Scottish World, Harry N. Abrams, INC., New York, 1981
Phillips, Gervase, The Anglo – Scots Wars: 1513 – 1550, The Boydell Press,                                                                                     
Woodbridge, 1999
Stone, George, A Glossary of the Construction, Decoration and Use of Arms and Armor in All Countries and in All Times, Dover Publications, INC., Mineola, New York, 1999
<![if !vml]>

<![endif]>     <![if !vml]>

<![endif]>     <![if !vml]>

<![endif]>