Zaghloul El-Naggar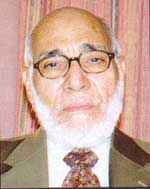 Zaghloul Raghib Muhammad El-Naggar (born 17 November 1933) commonly known as Zaghloul El-Naggar is an Egyptian geologist.
El-Naggar was born in the village of Basuon in El-Gharbiyab, Egypt. He graduated in 1955 from Cairo University with a science degree, and won the Mostafa Baraka award for geology. In 1963 he completed his Ph.D. in geology at the University of Wales, and was given the Robertson Award for research in the field of mining.
El-Naggar has had a long professional career, working in many countries, especially in the Middle East. He was a professor at the University of California, and has published 150 papers and 210 books. He is a member of several editing boards of scientific periodicals in the United States, France, India, and in the Arab world. He is a member of the board of trustees of the Islamic Institute based at Markfield College of Higher Education, near Leicester in the United Kingdom, and he is also a member of the board of trustees of the International Islamic Association for Media, London.