Ruby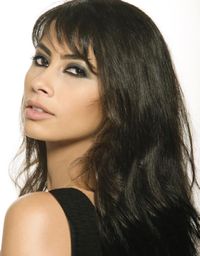 Rania Hussein (born October 8, 1981), known as Ruby, is an Egyptian singer and actress. She became an instant hit after making her first debut in the music video of Enta Aref Leih. Egyptian director, Sherif Sabri, is credited for launching her career.
Biography
Early Life
Ruby started her career as a model when Murielle Romanoff, the Polish singer, spotted her in front of the American University in Cairo. Romanoff himself chose Ruby to appear in his music video. She later appeared in the music video for his song Don't Make Me Cry. Ruby used to study Law at Bani Suwayf University just south of the Nile Delta.
Ruby later worked in television commercials for several products, including Pringles, Sparkle, and Alo. She then worked with Egyptian film director Youssef Chahine in the film Sekoot Hansawwar 2001, in which she played the role of a romantic wealthy girl who falls in love with her driver. Youssef Chahine is reportedly responsible for the switch to her stage name Ruby. She previously appeared in the comedy Film Thakafy in a minor role as a schoolgirl.
Singing
Her first music video, for the single Enta Aref Leih 2003, was directed by Sherif Sabri and was a hit on most satellite music stations in the Middle East during the summer of 2003. This video has caused a huge stir in the media, causing people and critics to critisize the way Ruby appeared in provocative costume of a Belly Dancer, wandering in the streets of Prag. Still though, the song made a huge success which with no doubt brought attention to Ruby. The song itself was a good tune, carrying the Egyptian style in form. It was composed by the well-known Egyptian composer, Mohammad Rahim.
Ruby's second video was released in early 2004. In the period between January and February. It was the music video of Leih Beydary Kedah. Directed by Sherif Sabri, the video was no less provocative than the first one. Implying slight sexual messages through the video. At the last seconds of the video, some make-over videos of Ruby are shown. How she got stylists in Beirut, recording songs with Mohammad Rahim and Sherif Sabri.
The third music video of the song El Gharaam (Koll Amma A'ollo Ah) was accompanied by clips from Ruby's movie, Saba' Wara'aat Kotcheena (7 Playing Cards) which included absolutely outrageous scenes caused the people to label Ruby as nothing more but a provocative, sex-icon. This over covered the fact that Ruby is an average vocalist with good music. The movie, was critically distressed by the censorship and governments of Egypt, Syria and many other Arabic countries which didn't allow its running due to the overtly usage of Erotic themes and hints. Still though, the movie itself was bland with a poor storyline. Directed and produced by Sherif Sabri, where it was his first experience in cinema.
Two music videos were released later. One for Ana Omry Mastaneat Hadd and the other for Ghawy. Both are taken from the movie Saba' Wara'aat Kotcheena (7 Playing Cards). So there was no new contents, other than being far more extended (full) in the music video than the short ones in the movie.
Eba'a Abelni music video is the latest of Ruby. The music video's theme was ancient Egyptian of Ruby dancing in set-up studios. The song, however, is different from the album version. The video's version was rearranged by Sherif Sabri. He also directed the videoclip. Ruby by this time ended up with 6 videos shot -- and 8 tracks in her album. That would make 2 songs left with no music video. She was largely supported my MelodyHits TV (an Arabic-International Music Channel) ever since her second video. The channel always broadcasted the premier of Ruby's videos.
She has been questioned in numerous interviews about her provocative style and suggestive moves, to which she responded that she doesn't consider herself to be a sex symbol. She was also rumored to be married to her manager, Sherif Sabri, but both she and Sabri have denied the rumor.