Omar Sharif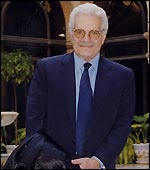 Omar Sharif born April 10, 1932, in Alexandria, Egypt, to Joseph and Claire Shalhoub as Michel Demitri Shalhoub), also known as Omar El-Sharif, is an Egyptian-born actor (of Lebanese and Syrian origin) who has starred in many Hollywood films.
Biography
Omar Sharif graduated from Alexandria's Victoria College, then from Cairo University with a math and physics major. Afterwards, he worked with his father in the lumber business.
In 1953 he started his acting career, with a role in the Egyptian film Siraa Fil-Wadi (English The Blazing Sun).
Apparently, he converted from Christianity to Islam, took on the name Omar El-Sharif, and married the Egyptian star Faten Hamama in 1955, which rocketed his popularity in the Arab World. The marriage ended in 1974 after having one child Tarek Sharif (born 1957) who starred in Doctor Zhivago as Yuri at the age of 8.
His first English language film was Lawrence of Arabia in 1962. This performance earned him a Best Supporting Actor Oscar nomination. He also played Dr. Zhivago in the movie by the same name. Omar Sharif is fluent in English, Arabic, Greek, and French. He speaks some Italian and Turkish.
Bridge
Sharif is also one of the world's best known contract bridge players. He writes a syndicated newspaper bridge column, he is also both author and co-author of several books on Bridge and has licensed his name to a Bridge computer game. Sharif is also a regular in casinos in France, where he once assaulted a casino employee after losing thousands of dollars on a single roulette bet.
Trivia
Height: 5' 11" (1.80 m)

Although raised a Catholic, he was not religious. He converted to Islam to marry Faten.

He was once romantically linked to his Funny Girl co-star, Barbra Streisand.

He underwent triple bypass surgery in 1992, and suffered a mild heart attack in 1994.

On 5 August 2003, he received a one-month suspended prison sentence for striking a police officer in a suburban Parisian casino that July. He was also fined $1,700 and ordered to pay the officer $340 in damages. (He had insulted and then head-butted the Pontoise policeman, who tried to intervene in an argument between the actor and a roulette croupier.)

In November 2005, he was honored a medal by the United Nations Educational, Scientific and Cultural Organization (UNESCO) in recognition of his significant contributions to world film and cultural diversity. The medal - which is handed out very infrequently - is named after Russian director Sergei Eisenstein and could only be given out a total of 25 times by Russia's MOSFILM.

Allegedly on a hit list issued by the terrorist group al-Qaeda.
Filmography
Hidalgo (2003)

Monsieur Ibrahim et les fleurs du Coran (2003)

The 13th Warrior (1999)

The Mysteries of Egypt (1998)

Funny Girl/Funny Lady (1997)

Lebanon - Imprisoned Splendour (1997)

The Possessed (1996)

Gulliver's Travels (1996)

Catherine the Great (1995)

Lie Down With Lions (1994)

Beyond Justice (1992)

Grand Larceny (1992)

Mayrig (1992)

Memories of Midnight (1991)

The Baltimore Bullet (1990)

The Opium Connection (1990)

Ashanti: Land of No Mercy (1989)

Peter the Great (1986)

Top Secret! (1984)

Green Ice (1981)

Oh! Heavenly Dog (1980)

Pleasure Palace (1980)

Bloodline (1979)

S-H-E (1979)

Crime and Passion (1975)

Funny Lady (1975)

Juggernaut (1974)

The Tamarind Seed (1974)

The Horsemen (1971)

The Last Valley (1971)

Che! (1969)

Mackenna's Gold (1969)

Funny Girl (1968) (Salary £8,000)

Mayerling (1968)

The Night of the Generals (1967)

Doctor Zhivago (1965) (Salary £8,000)

The Yellow Rolls-Royce (1965)

Genghis Khan (1965)

Behold a Pale Horse (1964)

The Fall of the Roman Empire (1964)

Lawrence of Arabia (1962) (Salary £8,000)