Naguib Mahfouz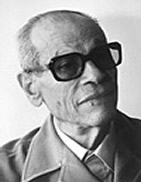 Naguib Mahfouz (born December 11, 1911) is an Egyptian novelist.
Naguib Mahfouz was born in the Gamaliya quarter of Cairo; he was named after Professor Naguib Pasha Mahfouz, the physician who delivered him. A longtime civil servant, Mahfouz served in the Ministry of Mortmain Endowments, then as Director of Censorship in the Bureau of Art, as Director of the Foundation for the Support of the Cinema, and, finally, as a consultant to the Ministry of Culture. During his career he has published more than 30 novels. He was awarded the Nobel Prize in literature in 1988.
Many of his novels were first published in serialized form, including Children of Gebelawi and Midaq Alley which was adapted into a film of the cinema of Mexico starred by Salma Hayek (El callejón de los milagros).
Children of Gebelawi (1959), one of Mahfouz's best known works, has been banned in Egypt for alleged blasphemy. In 1989, after the fatwa for apostasy against Salman Rushdie, a blind Egyptian theologian, Omar Abdul-Rahman, told a journalist that if Mahfouz had been punished for writing this novel, Rushdie would not have dared publish his. Sheikh Omar has always maintained that this was not a fatwa, but in 1994 some extremists, believing that it had been one, attempted to assassinate the 82-year-old novelist outside his Cairo home. He now lives under constant bodyguard protection.
US trumpeter and composer Dave Douglas titled a song on his 2001 album Witness "Mahfouz". The 25-minute piece features singer Tom Waits reading an excerpt from Mahfouz's works.
Works
Whisper of Madness

(1938)

همس الجنون

Mockery of the Fates

(1939)

عبث الأقدار

Rhadopis of Nubia

(1943)

رادوبيس

Modern Cairo

(1945)

القاهرة الجديدة

Khan al-Khalili

1945

خان الخليلي

Midaq Alley

(1947)

زقاق المدق

The Mirage"

السراب

The Beginning and The End

(

1950

)

بداية ونهاية

The Cairo Trilogy

Palace Walk

(1956)

بين القصرين

Palace of Desire

(1957)

قصر الشوق

Sugar Street

(1957)

السكرية

Children of Gebelawi

(1959)

أولاد حارتنا

The Thief and the Dogs

(1961)

اللص والكلاب