Ahmed Hossam
Mido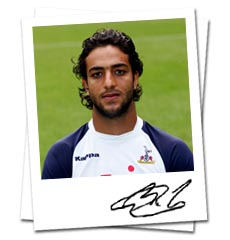 Ahmed "Hussein Abdelamid Ahmed" Hossam better known as Mido, (born February 23, 1983 in Cairo) is an Egyptian footballer and is currently a striker for Tottenham Hotspur F.C. in the English Premiership.
Mido is well known for his volatile temperament as well as his footballing prowess. He was reported to be the highest ever paid Egyptian professional and in 2002 Mido was named African Youth Player of the Year. He made his first full international appearance against the UAE scoring Egypt's first goal in a 2-1 victory. Recently he established the "Mido Football Academy" which is recognised as a step in revolutionizing Egyptian football.
At Ajax, he averaged a goal every other game, but clashed with coach Ronald Koeman and reportedly threw a pair of scissors at fellow Ajax striker Zlatan Ibrahimovic after an argument. [1] He has earned 34 caps for Egypt, but lost his place in the national team after a bitter falling-out in 2004 with then-coach Marco Tardelli. He claimed to be unavailable for the national team due to an injury, but played in a friendly match with Roma 24 hours later. Tardelli immediately dropped him from the team, and the national federation announced that he would not play again for the team.
In January 2005, Mido was signed by Spurs on an 18-month loan deal with Roma, expressing many regrets for his volatile past. He scored two goals in his Spurs debut. Despite this, he found acclimatisation to the rigours of English football difficult. By this time Tardelli had been sacked as Egypt coach, and the federation signaled that they would consider a return by Mido if he were willing to apologise for his past behaviour. In February, while his new teammates were playing in an FA Cup tie for which he was ineligible, Mido flew to Cairo and made a public apology. The following month, he was
recalled to the national team.
At the start of the 2005-06 season, Mido looked in far fitter form and scored in pre-season friendlies as well as the second league game of the new term. He has continued to impress and is currently the top scorer as the club pushes for a champions league spot.
Hossam has scored 11 goals so far this season, along with 8 assists, and is the "spearhead" of the Spurs attack. He has also established a great following at the club where the fans chant "Mido, Yiddo"; Yiddo being a nickname given to spurs fans. His relationship with manager Martin Jol is excellent; every game the two can be seen hugging and sharing jokes. His loan to the Spurs is due to end in the summer of 2006. However, he had expressed that he does not wish to return to Roma, but wishes to sign permanently with Tottenham instead. On February 18, 2006, Tottenham Hotspur manager, Martin Jol declared that the club were confident of signing Mido on a permanent basis due to his good performances and his love for the club.
On February 8, 2006, it was announced that Mido had been thrown out of the Egypt as a consequence of an argument with coach Hassan Shehata during the African Cup of Nations. The argument had started after Mido reacted badly to being substituted in the semi-final game against Senegal. The Egyptian Football Association subsequently ruled Mido out of the international team for six months. Mido later apologised to the coach and his teamates.

Clubs
-Tottenham Hotspur (loan; 2005 - )
-Roma (2004 - )
-Celta Vigo (loan; March 2003 - July 2003)
-Olympique de Marseille (2003 - 2004)
-Ajax Amsterdam (2001 - 2003)
-Egypt national football team (2001 - )
-Gent (2000 - 2001)
-Zamalek (1999 - 2000)
MIDO

Full name: Hossam Hussein Abdelamid Ahmed
DOB: February 23, 1983
Birthplace: Cairo, Egypt
Nationality: Egyptian
EU passport: No
Height: 190 cm
Weight: 81 kg

Club: Tottenham Hotspur FC
Position: Forward [L, C]
Number: 15
Contract Expires: June 2009
Previous Clubs: Zamalek > Gent > Ajax > Celta Vigo > Marseille > (£4.05m) Roma > Tottenham

International debut: January 2001, v United Arab Emirates
Caps: 43
Goals: 17
World Cups: none
Palmares:
African Nations Cup (06)

African Cup Winners Cup (00)

Dutch Eredivisie (02)
Dutch Cup (02)
Dutch Supercup (02)

Belgian League Young Player of the Year (01)
Egyptian Young Footballer of the Year (01)
African Young Player of the Year (02)
Per Season Stats:


2004-05
Tottenham Hotspur
ENG
A
9
2
2004-05
Roma
ITA
A
8
0
2003-04
Marseille
FRA
A
22
7
2002-03
Celta Vigo
ESP
A
8
4
2002-03
Ajax
NED
A
16
9
2001-02
Ajax
NED
A
24
12
2000-01
Gent
BEL
A
22
11
1999-00
Zamalek
EGY
A
4
3