---
Ang Octoberian
(10/17/2006 10:06 PM +8 GMT)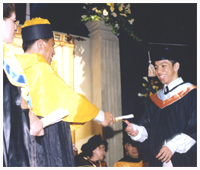 October 13th, Friday at Liceo de Cagayan University Civic Center
, one of my unforgettable moment in my life, finally, graduated with the degree of BS-Information Technology along with my best classmates Francis Barretto, Andrian Lou Lansang, Kin Ryan Orbe, Renan Moreno, Mermitch Pada, and Marian Bacus. I could not believe that I finally stepped on the stage and took the best bow in my life. Problems temporarily slipped away, happiness fills my heart especially with my best buddy Francis and realized, everything was set as what it was planned -- graduate as skilled IT students.
Alumni Francis, salamat! Alumni Lance, Nanzki, Khinvox, Marian, Mitch.. nakaapas ra jud ta bahala octoberian ba!
---
Don't touch my birdie!
(9/01/2006 10:30 PM +8 GMT)
.. just a song from my all-time favorite pinoy band
Parokya ni Edgar
who inspires me to pursue my musical career... err.. konti lang. I haven't got much time on playing guitar na but I promise myself to play that awesome
Canon D Rock
. But first, I still have to work on my school. Hmm, how was that? "work on my school"... does it bothers you? Or it should be, work on the requirements for this coming,
2 weeks na lang!
, graduation~ So what's new? Still afraid of these Professor Snapes? No, actually, I've talked to one of them and I hope everything's gonna be alright. Last Thursday, I talked to a Physics instructor. It wasn't easy since we just had a misunderstanding a week ago. It happened because I was too tactless and my humor wasn't in the right time and he felt like insulted. I'm just an earthling, sometimes I screwed. So, last thursday was one of my unforgettable day. Thanks to my "red shirt" (I really don't believe in lucky charm but indeed, it was a lucky day, no regrets baket pinili kitang suotin). I just bought a celphone from a really good friend/ka-batch named
Kaging
.
"Thanks kaayo! Good luck sa inyong duha ha! Wish you all the best, you guys are the best!"So what happened to that Physics instructor after that misunderstanding?
Before the class, I have never been so nervious and scared in my life. It seems like everything will go wrong~ feels so really really low that time. Thanks to my college bestfriend
Lawrence Babanto
for the good advices.
"Bai, almost 5 years in college, salamat!"
After the class, I took a deep breath and walks in again the room, looked at the instructor's eye, (
sabi ni lawrence, eye-to-eye daw eh~
) and apologized. God is so good~ he just replied "
Ayaw na to, kalimti na to. Ok ra.
" .. Man, I feel so relieved!!! Now, I got nothing to worry about! It's like I've won $50,000 from the X-Factor series! I almost forgot my best motto in life... "it's really better to try and fail than failing without even trying!".
---
Professor Snape!
(8/17/2006 08:03 PM +8 GMT)
Something just happened before writing this.. A dilemma is a problem offering two solutions, neither of which is acceptable. The two options are often described as the horns of a dilemma, neither of which is comfortable. Then what? Well, I have this sh~t in me -- it is called the d-prof-will-kill-u-phobia. This is all about my stupidity I had during my 3rd year in college. The time when I paid no extra-attention in my academics. This sh~t began when I intentionally got hung up with this online game, filthy, dangerous, money-suckah ragnarok. This game sucked almost all oppurtunities, social activities, and fried up almost my lame academic performance. This was then followed by gunbound and made the biggest lie in my life. I've created a monster.. or rather a character that never really existed. A person behind that character I've molded and was loved by the online community. This person lived almost a year and started grabbing almost my whole existence that I intentionally killed it because of my jealousy. Hahahaha~! Quite funny indeed! That person officialy was shut down last summmer and the online community people started to acknowledge my existence. Crap~ LOL! I hope people will get this somehow. You see, you can do anything in the internet.
So what about that d-prof-will-kull-u-phobia then? I am a graduating student. And I've been a "graduating student" for 2 semester. Or rather 3... in short, I've passed out! Uh.. wasn't that right? I should've graduated a year ago.. and should've graduated last march.. and sucks, ended up to be an Octoberian. Now, I'll have to processed all my records just to have my name on the graduation list. How will I do that? I'll have my grades checked by our dean. So what's the problem now? The problem is in me, well, I have already grades in my subjects and what's needed is just a signature from the Dean and the Registrar. Crap, I can't describe this.. This needs to be talked in their offices. I'm afraid I won't be able to get out from this. I might get screwed!
Arrghh~ my right arm's aches just when I hit this stupid [ENTER] key. I got this when I got involved in this indoor sport. Hahahahaha~ I didn't expect that I'll be seeing myself holding a badminton racket and hitting that shuttlecock to any direction. Yeah, I mean it, I'm still a newbie. I just bought a racket for myself yesterday. Not to mention, I also bought a white *Adiddas Shoes for the game tomorrow. (shhh~ *imitation for a cheap price only :p). Thanks to my cool boss Stephanie, she invited me again last friday for a badminton game and it was really fun that I myself started hitting the game though most of the time, I sucked LOL! But I'm getting it slowly! Someday, you'll be seeing me hitting heads in the court nyahahahaha~!
Ahhh.. I've just remembered, yesterday probably one of the best day ever. I've just been praised. LOL, yun lang.. hahahahha~ tenenenennenen.. And there's a pretty chiq beside me hanging around in the YM channels. Wish her luck wahahahah~
---
Music Heals Your Soul!
(6/06/2006 11:18 PM +8 GMT)
Indeed a rest day to be called, I woke up tri o'clock pee eem. After taking meal, I grab mah az to the bubbly water of soap with hydroxic element and fiber sheets, in short, the "laundry". I almost forgot to visit the camp. It is where I spent my childhood up to my teenage life located in Camp Evangelista Patag Cagayan de Oro City. Damn, I shouldnt have spelled that out. I'm afraid Oprah will find out my house and will visit me, damn, I hate surprises ~j/k.
I left the apartment at past 3p and arrived in Camp with a surprise to my dear father. It's a photo album from oldest sis Kitz. nyahahaha~ she's old, bye bye calendar! The album really inspires Lt. Col Roque, knowing that he's lucky enough to have what he's craving to see.
I didn't stay long there knowing that the colonel was happy enough to hear some good news from me. I ought to visit my computer but sucks~ the pc wasn't ready to use coz someone just hide the cable. I didn't bother to own the pc knowing that someone's needing it more... sigh~ I don't even want to spoil on somebody's skin. I decided to spend some time in an internet cafe near our school. It'll just took me a jeepney and some ten minutes byahe from the house.
I was gonna walk in to Estop Internet Cafe when I spotted a really good friend of mine, Francis Barretto. He's one of those really respected IT student in our batch and just like me, we passed... we passed March, in short, Octoberian tuloy ! He just arrived from Bukidnon.. He left man gud kadtong miaging semana during his birthday last Wednesday, and I've forgotten ~ He just reminded me when we just got in to the jeepney coz he asked me to spend some time at the mall. I didn't hesitate since I still got a lot of time to enjoy and had some time with a friend. As a gift, I'll treat him out. I think that was the first time I treat a friend, hahahahaha~ how selfish I was before huh, LMAO~!
Limketkai Mall, one of the great malls in the city, was our destination. We had some good meal there. He had a humba, while I got a shrimp curry. Putek, nilaklak ko pati ang sili! After eating, we headed to Solidmark where TVs, home appliances,... musical instruments can be found. There I met Sherwin who's assigned to the music section, also a friend of Francis. Sherwin's probably one of the great musician I've met! He played the Yamaha piano for us! He's a great entertainer! We enjoyed watching as he plays some ballads, jazz, love songs, and cool piano instrumentals! He even shared us some of his compositions! Truly amazed us so much and again, I got inspired to work on my piano skills again. I'll just rely on the Canon D lead to Francis. I just gave him my Canon tabs. I asked him to play it for me when he already mastered one of my Jerry C favorite composition -
Canon D
.
After almost an hour of listening to Sherwin's piano entertainments, uwi na kami, pero bago yan, ta-try muna namin yung bagong Jollibee in Carmen. Syempre, sagot ko yung kwentuhan habang kumakain. I shared my new corporate experiences blah blah and hoping na makasama ko na yung mga taong gusto kong pakisamahan simula pa nung college. Pagkatapos nun, uwi na siya baka masarhan pa siya ng striktong apartment nya. Tapos ako, tambay dun sa Estop Internet Cafe at naglaro muna ng O2 JAM where I can play my favorite Pachelbel's Canon! After an hour, bisita muna dun sa cafe ni Robert at yun, tulog na pala ang manyakis kaya, dito ko na ginawa yung blog na to. I'm sleepy and it's 12 midnight. Work na uli bukas wakokokoko~! Goma... blogging off..
---
Treat for thy self!
(7/17/2006 08:52 PM +8 GMT)
Ola~ gracias amigo. Buenas dias! LOL, still have that Spanish wannabe. It started in the office when a group of foreign clients came to visit the office. I don't know what they're talking about. Ma'am Han really impressed me when she starts talking in Espanyol with the visitors. When the visitors left, I started to kid around and start speaking Spanish. I don't know what came into my mind. I just had the vibes to start my insanity at the office and everybody seems to jive and makes fun with each other. The workplace has gotten better everyday with nutty officemates and kalog bosses, pati yung sira-ulong guard na bigla lang susulpot mula sa salamin sa kabilang office na animo'y naagnas na Andrew E., wala na akong reklamo maliban sa laging nauubos ang coffeemate.

There's something missing that day, or rather someone.. it's our funny client from a big company. Pag binanatan mo nang istorya, tiyak, magagago ka sa kakatawa. I often mimics the way he talks. Though often times he's irritable but once you got a hang of it, maeenjoy yung buong office. Luckily, I mean, kaya lang, I think he had forgotten to visit the office ~ YEY!

Nakakagutom na, while listening to Canon Rock Version, astig talaga yung video! ~ I feel so blessed. Not to mention, I bought myself some stuffs para remembrance kuno~ Buti sinamahan ako ni Berting. Langya yun, di ako nakapili ng mabuti sa 98peso shop. Good thing, there's a lady who helped me at nakapili naman ako, and I call it - The Red Shirt. awoooo~ *lightning background*

I hope and I will try na magtagal sa Syntactics Inc. Astig talaga dun. Kahit simple lang kami manamit pero yung trabaho naman namin, dammit~ pang world-class! Hi-tech naman yata yun kase web dev! Lakas ng arrive talaga kase in-na-in! It's almost 10, I should better go na, baka ma-late na naman! I forgot to buy alarm clock. Now I'm just relying to my 8-hour sleep at sana magtugma talaga yung 8-hours!


---
Launching of the CDO Official Site!
(06/31/2006 05:30 PM +8 GMT)
After working with the site in 2 days along with the Syntactics Web Dev Team, the Cagayan de Oro City Official Website was launched at the Night Cafe Divisoria at about 8 pm. It was really a breakthrough in my career as a part time web developer since the first project that was given to me during my 2nd day of work was successful!

Along with, the team celebrates the Syntactics Inc. Anniversary since it started in June a few years ago (I'm forgot the year yay~) and also the celebrations serves as a welcome to us (me and Robert who started last April) for being a part of the web dev team. After the dinner, we had some beers and mingled with the rest of the team. It was indeed a very unforgettable day in my life, not to mention that it was salary day LOL and I was paid higher than I expected because of my great performance showed during the past days.

There's still a lot to say though I'm really hungry while typing this sigh~, one thing for sure, having a part time job with teams having a very cool personalities, I'm grateful to be a part of it. Thank God.
---
My First Career Breakthrough!
(06/29/2006 11:50 PM +8 GMT)
The Applicant

Last Saturday, June 24th, I submitted my application to Syntantics Inc., thanks to Mr. Robert Steve Paolo Dejesica, who happened to be a co-owner of the internet cafe where I usually hangout and told me to join their web dev team. He handled PHP programming and after seeing my website and other web related samples, he asked me to work with them as a part time and try it out for myself.

The Interview

Last Monday, June 26th, I did the interview with Ms Honey Caragos, who manages Syntactics with Mr. John Kaamiño. I felt comfortable when having this interview with her (Honey) and she told me that tomorrow (Tuesday) will be my first day of my 1-week training (w/ allowance yeahooo!).

First Day Noob

Tuesday, the day I started my career as a part-time web developer XD. Arrived at 8 am at the office, it was awkward and very uncomfortable. I was introduced to the team comprises of 7 teckies. I was still observing that time and perhaps I came up with this first impression - I THINK I'LL BE ENJOYING THIS JOB WITH THOSE NUTS! Not to mention the very descent environment, I'll be working with comic and enjoyable people! I'm really thankful for this oppurtunity to work with them.

First Task Mr. John asked me to make a guestbook for the Kagay-an Online using PHP scripts with the help of Robert. It was quite confusing at first because it was kinda` different compared with thse school projects. It has a lot of accounts and passwords then you'll be brought into the admin database functions. I don't know how to create a database online so I asked Robert to show me the things I needed to know. I did adjusted to the new interface and luckily, I managed to complete my task for that day. Just then, another task was given to me. It's all about creating a layout for the Cagayan de Oro website. I thought it was just a government section site, I mean, I didn't expect it to be the "Official" website of the city!

it's almost late.. continuing this for some other time. I hope I won't miss some..
---
City Walk!
(06/23/2006 09:17 PM +8 GMT)
Most people say that "Walking is the best exercise!", making not just your body healthy, even your mind, heart, and soul.

Walking a 3-kms from home to school is a bit tiring since you're walking in a city. Not to mention the busy roads with smokes and dusts, PLUS the heat of the 2-pm sun, you could feel exhausted. I have no choice, sounds silly, I don't have even a peso. WTF's wrong with me, I can't even save for my future use. I'm so stupid. Walking seems to be the only way. No regrets, I get to see my inner self while walking *sour-graping pweh!*, and thought for a while about changing myself into a more resourceful person.

Walking to school is really quite fun. I can remember the last time I had my walk to school was when I was still in elementary. Seeing different kinds of people, looking around where people seems to be in a hurry, cars all over the place and a LOT of mirrors where I can stop and take a look at my face for a second. It was really enjoyable 'til I reach my destination -- Eddie Gold Dormitory. WTH??! Didn't I mention to go to school? Well yeah, thanks for the one and a half hour of Naruto show at Studio 23 TV and a 3-km walk, I missed my 4 PM class, so I decided to stop by or rather stand by in a dorm filled with music and friends.

I spend the whole afternoon talking, teasing, and shouting with those silly maniacs. Not to mention, I did played guitar -- borrowed from a dorm gurl Jazz. Unfortunately, the guitar session wasn't that entertaining since I really don't have a singer-quality voice and I got tensed all the time. But I'm sure there's a song that really hit that afternoon - We Belong by Toni Gonzaga *damn, I love that chick!*. With Chairman and Eninz, one of the silly maniac dormies, we enjoyed the song especially the chorus and shouts "Don't you know that we both belong.. !!"

Unexpectedly, an old friend came to visit the dorm - Andrian Lou Lansang a.k.a Lance (CIT Bad Boys). He was one of those cool katropa and maaasahan talaga. He just finished his college last summer 2006. If I'll be lucky, we'll march together this coming October. He's one of my co-programmer and designer when it comes to IT projects. Maaasahan at maaangasan talaga tong taong to. Nilibre pa ako ng hapunan and some fifty's.

The dark seems to dominate the surroundings and at around 8, Lance and I decided to leave the dorm. Jesse, also one of my Bad Boy kabarkada, joined us to leave. Outside the dorm, we had an almost an hour chat with isaw trip sponsored by Lance while reminiscin' the pasts when we're still in our early years in college, realizing how much we enjoyed our ol' good days! So much for rememberin', we called it a day. "Bulag bulag sa ta bai sa maayong kabubut-on"

I ran across the busy road to take a ride back home 'cause I managed to have some money then. Hmm, it ain't sunny. The night seems to be so friendly so I decided to take another walk back home. While walking, I get to a lot of versions singing and rapping with these lines "Walkin' iz d best exercizah!" LOL. Singing's really refreshes me as I passed along some videokes with great songs, videoke singers that sings well, harmless odd-looking tambays, all flavored out my recipe for tonight -- WALKING.
---
Professors -- Absent!
(06/14/2006 08:00 PM +8 GMT)
Wednesday, the first day of the week that I have classes. My first session starts at 2pm. I feel so comfortable wearing just my black PMA shirt I bought during our MLA-SBMA-BAGUIO tour last December. Not that excited for the subject since I've taken it 3x! A subject offered only in the university - Social Orientation/Group Dynamics. Don't ask why I got it 3x. Of course, since I'll be having my first class, I cant keep on thinking.. sino kaya magha-handle ng subject.. Pls not Mrs Tingle! Not her please! I dont wanna teach Mrs Tingle. Actually, she's Mrs. Pearson. She's my prof during my first take of the SO subject. Realizing she won't be in my class, I rejoiced! And as expected, we didn't have our first class today. Quite frustrating, but at least, I did my promise to myself -- NOT TO SKIP THE FIRST CLASS OF MY LAST SEM.

Since I'll still have 2 hours before my 4:30p History class, I decided to stay in our IT department corridor. There, I get a chance to talk with my other Octoberian classmates about some bloody, scary, freaky stories. One talks about her experience on her breast operation. Di naman ako takot sa dugo o kahit hihiwain pa ni Arnold Schwarzenegger yung kamay niya sa terminator, but the fact that totoo kase naexperience nga, i can feel the pain during her operations. Maselang bahagi kase inooperahan amf! She also mentioned about her near death experience. It was nice to know that our souls really go out from our bodies. Astig rin un! There are still more to talk about but it's already 4:30pm. So I hurriedly went out to the other side, climbed a five-story building, and again, our history prof didnt show up. I have to wait more hours for my 7:30 Rizal class. At about 5pm, I went to a computer shop for just an hour to check my Gaia and other accounts. Then I ate my dinner to filled up my hungry stomach before going to my class. Damn, I think I ate the worst pinakbet ever and paid just 10pesos \m/, !! Am I complaining? Hell no! But I'll cut the head's cook if I'll pay more than 10pesos for a bunch of lousy pinakbet! Burrp! Thanks for the water as I paid the cashier. Then I saw some of my degree-holder batch. I think they're going to have some beer. Too bad, they didn't invite me out. It's like "Pare!", then just like that, they just passed over me knowing that they won't graduate without my eherm~ skills in programming. It's a shit though, well, that's life. I'm now useless to them. But time will come ~ >:)

And it's like 7:30 that I hurriedly make my way from the carenderia to my Rizal class and guess what. It was the same professor I had in summer... same subject.. same style of his way of making grades - reporting. I thought he'll recognize me but luckily, he didn't. I guess, it was that I cut my long hair I had in summer. Well at least, I had my class for the day.

Last words to say: Even if the school will be like a ghost town, try to attend your 7:30pm class at the 4th floor of the deserted building. You'll never know you'll gonna get the same professor for the second time!
---
First Day!
(06/13/2006 04:00 PM +8 GMT)
Eherm! Syempre, dahil Independence day kahapon, lunes na lunes walang pasok! So ngayon ang first day pasukan. Hopefully this will be my last semester. Nung tinignan ko yung schedule ko, WTF! wala pala akong class buong araw. Still, I have to go to the school para naman makibalita sa mga nangyayari dun. Estudyante tayo eh, so papasok muna. I arrived at the school mga around 10am. Tapos nakita ko yung classmates ko nun (eto siya). Konting usap lang tapos sinamahan ko ung si Khinvox sa pag-followup ng NG niya. Pero di sinuerte, sa tatlumpong oras kong paghihintay sa labas, nauwi lang pala sa wala. Busy daw kase ung prof na un kaya di mabigyan ung kawawa kong kaibigan ng grade. Medyo nakakarelate din ako. Higit pa dun, I felt this fear inside me. Something just came into my mind. Well, wag na muna yun. Kawawa kong kaibigan, kumain na lang kami sa labas.

Hayzz, tinamad ako bigla sa pagtatype. Andito pa sa tabi ko yung bestfriend ko. Lakas kase ng ulan sa labas, so I invited the shit para samahan muna ako sa pag-iinternet. Kumakanta pa ng "kung wa nay baboy sa inyong silong, wa nay mukitkit sa igit na gipilit sa inyong haligi"
Translation: If there's no pig below the nipa hut, no ones gonna eat shit that stick in your pedestal.

Damn, ginutom ako bigla. Saka ko na to continue..
---
Great 6-6-6!
(06/06/2006 08:00 PM +8 GMT)
Pare, ang lakas ng arrive ko simula pa lang ng araw. I think ithappened around 6 AM when I got a message from the one I truly admire. Didn't expect na nakita niya yung mga gawa ko and she even acknowledge it. Actually dalawa sila. Both I talked in YM. Kahit ganun, at least nakakatulong na rin to boost up my trust sa sarili ko. Di sa pagmamayabang, I got a lot of compliments pagdating na sa mga gawa ko related to computer pero iba yung sa kanila. Feeling ko, buong pagkatao in-acknowledge na nila. Well, bago pa yun, may nagawa na rin yata ako sa kanilang maganda but I'm not expecting to get paid. I don't even asks for their gratitude. Once I'll make a person happy, para sa akin, achievement ko na yun. Everybody deserves to be happy. Kahit lugmok na siya sa buhay, deserving pa rin siya lumigaya kahit sa isang sandali lang ng buhay niya.

Perhaps I want to be remembered. At least, may silbi tayo sa mundong ito. We don't need to die para maging superhero. Just a little bit of inspiration and learn to appreciate the things around us.

Nakalimutan ko pa yatang pumunta sa bahay to work on a small project. Sigh~ Oh well, yan lang muna. I'm so grateful 666.
---
Tuloy Pa Rin..
(05/30/2006 04:00 AM +8 GMT)
While typing this, I'm listening to Tuloy Pa Rin by Neocolors.
As the chorus goes --
"Tuloy pa rin ang awit ng buhay ko, nagbago man ang hugis ng puso mo, handa na 'kong hamunin ang aking mundo..
tuloy pa rin ako! You know that feeling na parang nanghihinayang ka isang sandali ng buhay mo. Though parang balewala na lang sayo kase andyan na pero reality bites. Thinking you could have been better if you haven't miss that chance. Di naman ako nagsisisi. As they say, you'll learn a lesson after the story. Yung story talaga na bago ha. Kase napakatanga mo naman kung alam mo na yung storya tapos iiyak ka kase ganun ending mo. Parang ako.. nagsasayang ng panahon dito sa internet. Parang ito lang yata ung way to express yung nararamdaman ko. Or probably internet is my social life. Yoko naman yata ng ganun! Napakaboring na yun. Maglulugmok ka na lang. Iba pa rin ung nakikihalubilo sa ibang tao.
Think about this, may nakilala ka nga online. Tapos ang ganda pa niya. Kaso nababanas agad ako sa mga ganyan. Wala eh, tapos ang layo pa. Distance does matter! Tapos mababalitaan mo na lang na may kakulitan na siya. To think, I could have experienced it with her kung di ko lang sana inunahan sarili ko about the way I think for her.
I still have the chance. Everybody deserves to have not only a second chance pero depende na *sabay luhod tapos iiyak waaahh last chance!*.
Tuloy pa rin ako sa buhay ko. It's so hard to predict the future. You dont know what or who's coming. One thing for sure, I must be READY!
---
Plan A, Plan B, no plan no plan!!
(05/27/2006 09:26 PM +8 GMT)
I got a lot of things in my mind right now. I'm planning to find a job related to my course. Hmm.. probably a call center will do. I can help people to solve some problems (except Math please no no) online. I can even teach them how to create a website LOL. Speaking of website, I had my first e-commerce experience. Though the transaction doesn't involved real money but a virtual gold instead which was taken in Gaia Online. I feel good about it. I mean, I can earn a real money for creating websites for clients outside the Philippines. I hope to have my own online business. I will employ myself then... go go go!What about my plan to be a part of a famous band in the Philippines? Or become an actor? Join the PBB 3rd season? Nyahahahahah! I'll just stick with my school first. First semester, here I come!
---
Whew! MP3 wacked me up!
(05/18/2006 10:33 PM +8 GMT)
You know that song Honestly by Harem which has a cool acoustic?? Francis taught me how to do the tabs! So cool to listen to, though I dont know the lyrics yet!
My GAIA mania was not that good since I haven't posted that much and I havent earned a lot of gold unlike before. I had this YM conference with my forum buddies and whew, manyak talaga ung mga kumag na un nyahahahah! Sigh, Im not really good at this blog thing, Im not use to this.
Before I forgot, I got this good news from Francis. One of the CIT staff mentioned about the 30k project for us this coming semester. I'm thinking, probably it will be a website with PHP scripts! Im so excited about it! And I'm excited to eat now, gotta go... my hunger's killin' me. Do i have to say "go"... wth.. im too noob for this blog stuff.. *leaves and almost forgots the flashdisk... cant afford to lose those MP3 files downloaded by Francis*
---
Site Successfully Started! LOL!
(05/15/2006 11:58 PM +8 GMT)
I just woke up past noon and I missed my favorite anime Naruto. OMGWTFBBQ!
Hell yeah! Thanks to reirei's site (whew, inspired by her.. hope you enjoy the site!), I got my own site now! I based it on the MP3 Anakti Skins but hey, this is a lot cooler. I hope I'll be able to keep it up. Damn it.. I haven't seen mah profs for today.. they missed me for sure! Sux! I feel so alone when I'm offline!
---
Feel Dizzy, Very Busy!
(05/14/2006 10:00 PM +8 GMT)
My morning started on an internet cafe. Yeah, that's right. I had an overnight internet babad. That GAIA is really a big hit for me. I never had my sleep! After noon, bro Ryan just took me to a friend's birthday so, even if I dont have enough sleep, I did had a great feast of that lechon baboy! Yummyyy~~~~
At about 6pm, I started to do Reirei's blog. I hope she'll liked it.
What the heck... it's so hard to write a reversed blog... what the hell im talking about!