What's Happening?

October 6 ASPD.CA is the new address for the web site. Update your bookmarks. This site will remain for the time being but all new information will only be posted at the new site.



October 6 2002 Champions of the Alberta Society of Pipers and Drummers were announced last night at the Awards Banquet and they are now posted.



September 29 Official Results for the last three Highland Games of the season have been posted.



September 12 The Annual Awards Banquet and Outdoor Season Wind-up will occur on October 5. Tickets are available from the President, the Secretary, Scottish Imports in Edmonton and The Scottish Shoppe in Calgary. Phone or e-mail to order.



September 12 Membership Renewals are due by September 30, 2002. The membership forms are available on this site. You may also fill out your renewal form and pay your fees at Scottish Imports in Edmonton.



August 14 Congratulations to the Edmonton Boys Pipe Band who won the World Pipe Band Championship in the Novice Juvenile grade. Well done!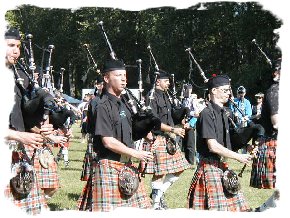 Upcoming Events

October 5
Annual Awards Banquet and Outdoor Season Wind-up
Key Contacts