CHARLIE'S
ANGELS

A Television History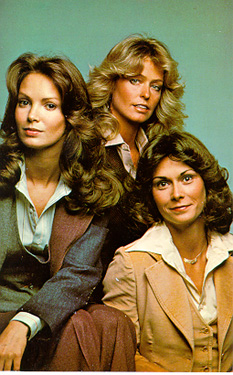 In the midst of all this trend programming, Aaron Spelling and Leonard Goldberg were preparing their line up of Fall shows to offer the ABC network. At that time most of the Spelling/Goldberg productions were male oriented action shows such as The Rookies, S.W.A.T. and Starsky & Hutch. It was virtually by accident that Aaron Spelling, the creative force behind the production company, stumbled onto the idea that became Charlie's Angels. Spelling had promised to create a vehicle for Kate Jackson, who had co-starred in Spelling's show The Rookies and was still under contract when the series was abruptly cancelled. Wishing to create a show to "cash in" on the new popularity of TV series carried by women but still remaining within the male oriented action genre so popular during the mid-seventies, Spelling laid out the rough draft for a show about three police women working together to fight crime which, at the time, he was calling The Alley Cats. It was Kate Jackson who suggested the three police women be transformed into private investigators who could not advance in the male dominated police force because she thought it would add depth and glamour to the show. It was also Jackson who brainstormed the gimmick concerning the faceless boss giving out assignments via intercom. And, again, it was also Jackson who suggested the title change because she felt that a title such as The Alley Cats was too stereotypical. Spotting a piece of baroque artwork behind Spelling's desk accented with cherubs, Jackson suggested the title Harry's Angels. Spelling thought this was a much better title but reminded her that there was already a popular series called Harry O. "Well, call him Charlie then," she retorted. "Who cares?".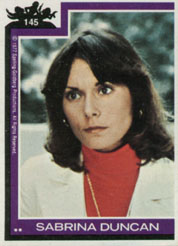 Who cares indeed! In retrospect we now know that Charlie's Angels became the most marketed television show of the seventies, earning several million dollars in merchandise sales. It also skyrocketed the three original Angels, as well as replacement angel Cheryl Ladd, into the legendary annals of pop culture history, especially toothy Farrah Fawcett who made 17 million dollars between the series premiere and the end of 1979. And it changed television programming for the remainder of the decade because after the unforeseen success of Charlie's Angels the networks were more willing to bank on slightly experimental shows, especially if the golden tag of Spelling/Goldberg Productions was associated with it. (Such prime examples include Love Boat and Fantasy Island.)
As a side note, Spelling gave Robert Wagner, of future Hart To Hart fame, 45% of Charlie's Angels prior to the series' premiere to settle another contract debt. At the time Mr. Wagner is reported to have denounced the series as the worst idea he had ever heard. He must have been very pleased that the show sparked such a phenomenon.
Continue->