1st Lt. Robin "Flint" Peters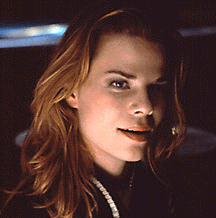 The character | The actress | Quotations

Unfortunately (for me and all other Flint fans) Lt. Peters wasn't able to win the contest; at least the third place isn't that bad after all. Flint received 10 votes, including mine, and sometimes she was also indicated as the "second pick" by other WC fans.
---
The Character

Flint is 32 (in the "Heart of the Tiger" novel she's younger, around 25 years old), she was probably born on Earth and then went with her family, when she was still a girl, to Locanda. Many in Flint's family have piloted fighters: her father, her grand-father and also her brother David, who died in a fight against the Kilrathi. It was for this lattest reason that she fought an almost personal war against the Cats, in order to make sure she could avenge her brother. Flint has a dynamic character hidden below a rational and cool exterior, she's a real good pilot, but her performance can be influenced easily by her mood. To my deepest regrets she wasn't back in Prophecy, maybe due to the fact that in the "Heart of the Tiger" novel the authors of the book had the bad idea of making her get killed by Prince Thrakhath, during the Temblor bomb strike :˜( ; so, although Origin claimed that the books didn't contain any official development of the story, they preferred to call back Rachel instead of Flint (damn, at least they should have called back Panther...).



The Actress:

Jennifer MacDonald was raised all over the U.S.and Canada and has traveled all over the world. At the tender age of sixteen, after graduating high school, she enlisted in the U.S. Army where she was trained as an Arabic Linguist. She attended su rvival and jump schools and was sent to work all over the Middle East as a cryptologic "voice interceptor". She has also worked for various government organizations as a translator. She speaks standard Arabic, Egyptian, Spanish and some French. Making documentary films while in the Army encouraged MacDonald to get into film-making after her departure from the service. While working in film production in San Francisco, she got the acting bug. MacDonald got her start in San Francisco as part of a twelve person theater ensemble called "Lightfoot, " a multicultural, multi-ethnic group of actors dedicated to performing cutting edge material. Since arriving in Los Angeles three years ago, MacDonald has appeared as a guest star on several TV shows, including "The Adventures of Brisco County Junior, " "Dream On", "Red Shoe Diaries" and most recently "Land's End" with Fred Dryer. She has a knack for attracting interesting, offbeatmaterial like the Showtime original movie "Dead Weekend." MacDonald stars opposite Steven Baldwin as a homicidal, multilingual Alien from the planet "Claire" who needs to have sex in order to replenish her life energies :). In the psychological thriller "Shades of Black, " she plays a naive, young pro-bike racer stalked by a schizophrenic performance artist. MacDonald also stars as a fighter pilot opposite Mark Hamill in "Wing Commander III, " the most popular CD Rom in history. MacDonald has studied with Jeff Corey, Brian Reese, and with teachers from ACT San Francisco and Seattle Rep. In addition to working theatrically in San Francisco, MacDonald has written and performed in a series of original one act plays about the Middle East. She also has a passion for martial arts and trap and skeet shooting, both of which she has done all her life. (Actress biography from IMDb)



Quotations:

Berserker79: She's cute, she's intelligent and she knows how to fly a fighter.

Jacknife: She's awesome... and a red head to boot. Seriously, she's gorgeous and a good actress. I hope she's in a future Wing Commander!
---