More about the Antwerp 'hand':
At the back of some retables, a mark would be engraved into the wooden panel. Here you can see the Antwerp city-mark: two hands above the castle.
From 1470 the mark was mandatory on gothic "retables". It meant this was a first class woodcarving from Antwerp. Production ended about 1550, when new ideas about art and religion conquered large parts of the European continent.

Though many have been destroyed, more than 200 of these great, large altarpieces can still be found in churches across Belgium and also in the USA, Australia, Great-Britain...; an unknown number belong to private owners.

A beautiful gilded
silver jar, made in Antwerp about 1558,
representing Tunis' conquest by the Emperor Charles V.

No less important was Antwerp as a centre where rich gold- and silverware was produced and sold, especially during the 16th and 17th century (renaissance and baroque periods). Gorgeous ornamental objects, such as platters, goblets, candlesticks, ecclesiastic gold- and silverware are marked not only with the so-called mastermark, but also with the citymark, which is: the HAND.

Registered in Antwerp between 1562 and 1592: 300 new "free masters"

(gold- and silversmiths) and 550 apprentices!!!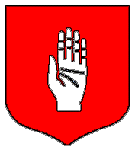 (return)