More about the Antwerp 'hand':
The ANTWERP HAND as a sweet appeared in 1934. In that year the Association of Antwerp Confectioners, at the research of a typical biscuit, organized a competition.
Because of its shape the winner was a tasteful little hand...

In 1956 its production was severely regulated: only members of the Association were allowed, if permission was given, to bake the biscuit; its composition and its shape could not be altered.
mm!
Belgium is renowned for its high quality pralines and chocolates!
mm!
The first CHOCOLATE HANDS (dark chocolate with coffee taste, or milk chocolate with nut taste) were created in 1971. Another kind of chocolate hand was born in 1982: the one filled with a mixture of marzipan and "ELIXIR d'ANVERS".

In the meantime came a fusion of both associations of bakers and of confectioners (1975). This provincial Union (Province of Antwerp) put the ANTWERP HAND and Antwerp colours (RED and WHITE)
into its letter emblem.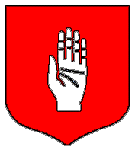 (RETURN)