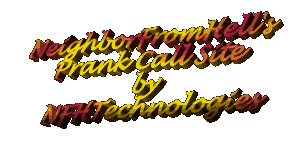 Click here to enter!!!



Disclaimer:
This website contains prank callz and is not intended for the G rated audience.
The NeighborFromHell or NFHTechnologies is not responsible for the cussing or
vulgarity of people recorded in these prank, crank phone callz. FCC laws prohibit
the recording of a telephone conversation without the consent of at least one party
of the phone call, of which the NeighborFromHell does acknowledge that he was aware
and did give consent to have his crank, prank callz recorded and replayed over the
internet. NFHTechnologies is not responsible for the people harrassed in the phone
cranks and will not give punitive damages for the distured victims in the harassing
telephone callz. NFHTechnologies is not a part of JerkyBoys or any other internet
crank call webpage. Some of the information in the recordings are censored for the
protection of the person being called. Audio censorship is necessary to maintain the
privacy of the people and companies in the telephone cranks.
The audio materials on this site are provided "as is" without any express or implied
crank warranty of any kind including warranties of merchantability, noninfringement of
intellectual property, audio, or fitness for any particular purpose. In no event shall
NFHTechnologies or its sponsors be liable for any damages whatsoever (including,
without limitation, damages for loss of crank profits, crank business interruption, loss of
crank information) arising out of the use or inability to use the materials, even if
NFHTechnologies has been advised of the possibility of such damages. Because some
jurisdictions prohibit the exclusion or limitation of liability for audio cussing
damages, the above limitation may not apply to you. NFHTechnologies and its
sponsors further do not warrant the accuracy or completeness of the audio information,
text, graphics, cussing, media, links or other items contained within this Site. NFHTechnologies
may make changes to these materials, media, telephone calls, audio, or the products described
therein, at any time without notice. NFHTechnologies makes no commitment to update vulgarity
media, vulgarity telephone calls or these vulgarity cussing materials.


Legal Notices:
The vulgarity materials and media on this NeighborFromHell Website ("Site") are provided
by NFHTechnologies as a service to its customers and may be used for telephone media
informational purposes only. By downloading any media materials or calls from this
NeighborFromHell Site, you agree to these terms. If you do not agree to them, do not use
the Site or download any cussing phone calls materials from it.


Copyright Notice:
The documents and vulgarity information on this Site are copyrighted materials of
NFHTechnologies and its NeighborFromHell affiliated sites. Reproduction or storage of cussing
phone calls materials retrieved from this Site is subject to the U.S. Copyright Act of 1976,
Title 17 U.S.C. Except as expressly provided herein, NFHTechnologies and its NeighborFromHell
information providers do not grant any express or implied right under any patents, copyrights,
trademarks, cussing telephone vulgarity calls, or trade secret information.


USER SUBMISSIONS:
Any material, information or other communication you transmit or post to this NeighborFromHell
Site ("Communications") will be considered non-confidential and non-proprietary. NFHTechnologies
will have no obligations with respect to such prank communications. NFHTechnologies and its
designees will be free to copy, disclose, distribute, incorporate and otherwise use such prank
Communications for any and all commercial or non-commercial prank purposes. You are prohibited
from posting or transmitting to or from this Site any unlawful, threatening, libelous, cussing,
vulgarity, defamatory, obscene, pornographic, or other prank material that would violate any law.


APPLICABLE LAWS:
This Site is controlled by the NeighborFromHell from home within the United States
of America. NFHTechnologies makes no representation that the audio, calls, media prank materials contained
in this Site are appropriate or available for use in other phone locations, and access
to them from territories where their phone content is illegal is prohibited. Those who
choose to access this Site from other locations do so on their own initiative and
are responsible for compliance with applicable local phone laws. You may not use or
export the materials contained in this Site in violation of U.S. export laws and
regulations. Any claim relating to the calls contained in this Site shall be
governed by the internal substantive laws of the State of Michigan.


This page has had
hits since March 1, 2000.