Shown at "Il Salone dell'Automobile di Torino" in 1965!

 

| | | | |
| --- | --- | --- | --- |
| More pictures: | | | |
| Pictures from current owner: | | | |

Picture from:


Number 46, 1965

 

 

 
---
History of this Vignale:
imported to Italy on 24 June 1964 as an Opel Kadett A

Rebuild by Vignale and shown as
Opel Kadett Spider on the Geneva Motor Show in March 1965 [color: red/sand]

second rebuild by Vignale as an Opel Kadett Coupé presented on the Turin Motor Show in November 1965

Shown on the Turin Motor Show in November 1965 as an Opel Kadett [color: light yellow / fir green]

Then exported to the US: stickers on the rear side of the car show the name of Colonial in Miami. The wiring of the flashers was done by Vignale in the American way. The car still has Chevrolet floor mats.

Imported to Monaco before or in 1971: it got a parking ticket in Nice/France at 24 March 1971 with Monaco registration.

14 May 1972 For sale during the Monaco Grand Prix at the 'Hotel de Paris'

The car still runs after 1979

1997: Rainer Wieler buys it from the Prince Rainier Museum in Monaco.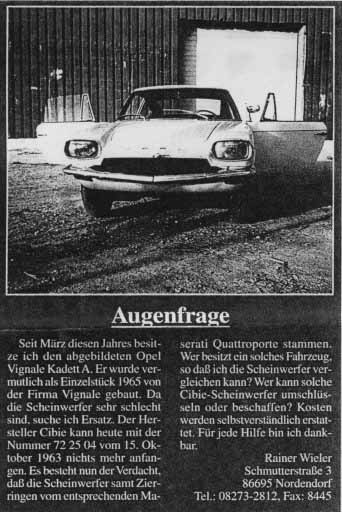 Ad from Rainer in the German 'Oldtimer Markt' from January 1998. He was looking for information on the headlights of his car. With over 60 reactions he found out that the headlights are identical to those of a Maserati Quattropporte Serie A and those of a Citroen Ami-6. The chromework around the headlights Are modified versions of the Maserati. According to 2 persons reacting to this ad, about 15 Vignale Opel Kadett Coupé's were built. Caused by the manner of the coach work since the second rebuilt by Vignale Rainer is almost sure that his Vignale was a 'One-off'.
The Pontiac and Jeep Dealer 'Colonial' in Miami is sure that the sticker is from them. Who knows anything abouth the American or Monaco history of this car? The known registration # in Monaco are in 1971 '3025MC' and later 'MC PM 24'. How is it posssible to research old American and Monaco registrations?
Please contact him at phone# +49.8273.2812 or fax# +49.8273.8445 if you have additional information.
---
This page hosted by
Get your own Free Home Page