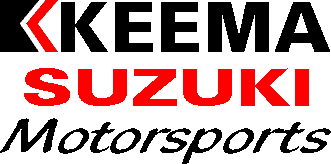 Tony Kabel / Greg Tebble - Suzuki Baleno GTX Hatch
---
The crew of Tony Kabel and Greg Tebble are the longest serving members of the Keema Suzuki Rally Team, and again in 1997 are campaigning their Suzuki Baleno GTX in the Queensland Rally Championships. Tony and Greg were 1996 Queensland Rally Champions for class N3, and victories in that class in rounds 1 and 2 of the 1997 Championships sees them comfortably leading the class in 1997 as well. Going into round 3, Kabel and Tebble hold 45.5 points in the outright Queensland Rally Championships, a scant 0.5 points outside the top three, and the crew are now chasing a top three outright finish in the 1997 state titles.
The Driver: Tony Kabel
Tony has spent almost a decade driving rally cars, but his rally experience is life-long - Tonyís father Henk, and his Keema Automotive Group, have been involved in rallying continuously for almost 40 years, and Tonyís involvement in the sport from an early age has provided him with a wealth of experience. Driving Mazdaís in his early years, Tony switched to Suzuki with the release of the Swift model, and now campaigns his Suzuki Baleno GTX in the Queensland Rally Championships. He was the Queensland Rally Champion driver for class N3 in 1996.
The Navigator: Greg Tebble
Starting his rally career as a driver, Greg switched to navigating a number of years ago and, together with long-time teammate Tony Kabel, has made a substantial impact on Queensland rallying, culminating with his Queensland Rally Championship navigators title for class N3 in 1996.
The Car: Suzuki Baleno GTX Hatchback
Tony and Gregís Suzuki Baleno GTX is currently in itís third season of rallying, running in the 'showroom standard' Group N3 rally class. Like all the Keema Balenos, the carís engine has had no modifications from itís factory specification. The Suzuki Baleno GTX runs a 1.8 litre DOHC engine with electronic multi-point fuel injection, producing a peak of 89kW of power and 152 Nm of torque. The carís only modifications are the addition of rally safety and navigation equipment, and up-rated suspension components, and as such, the performance of the standand Suzuki Baleno of Kabel and Tebble is a testiment to the sturdiness and reliability of the Suzuki model.
---




---
Last updated on August 24, 1997. Pages maintained by Rod Biggar. Please mail me if you encounter any problems.
Unless pre-owned, entire contents copyright © 1997, Rod Biggar, all rights reserved.
---
This page hosted by
Get your own Free Home Page