Melrose Alum Has Soul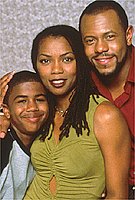 Showtime's Soul Food is clearly treating star Vanessa Williams very well. When the actress rang TV Guide Online on her cell phone to chat about the series — whose second season debuts tonight at 10 pm/ET — she was out shopping for Manolo Blahnik heels to wear to an awards show.
Though it's based on the 1997 movie Soul Food — which starred Vanessa L. Williams (that other Vanessa) and Vivica Fox — an enthused Williams called the TV version "a whole lot sexier, with lots and lots of black love and family togetherness and fights."
And yes, by "black love," she means love in the intimate sense. "It's revolutionary," she said. "We don't see black people celebrated in all our humanity. It fortifies black folks in a way they haven't been on an hour-long drama." Of course, Soul's cultural contribution is all well and good, but that it boasts a gorgeous cast doesn't hurt, either. "The men are all fine," Williams laughed. "There's not one you would kick outta the bed."
When people stop us on the street to give us props and love," she observed, "they're not saying, 'Oh you're so great,' they're saying, 'I see myself in what you do.' This is the great thing about Soul Food. The writers know what they're speaking about from their own experience."
All this stands in sharp contrast to Williams's early '90s stint as Melrose Place's Rhonda, the token black chick who was written off after only one season for lack of direction. "I think they didn't make the effort to equip themselves [to write for a black character], either by hiring a black writer or asking me things," she offered. "Then, the whole face of the show changed — no pun intended — to [Aaron] Spelling's soap-opera formula. They raised the stakes in terms of the sexual content, so who was gonna jump in bed with the black girl and not raise a hair in middle America somewhere?"
"So it was devastating to me as an actress not to be invited back," she adds, "but I knew it had nothing to do with my work, so I just had to release it." — Daniel R. Coleridge