From the September 28th TV Guide:

50 SEXIEST STARS OF ALL TIME

1 IT'S A TIE!
Diana Rigg & George Clooney

3 Angie Dickinson

4 Denzel Washington

5 Peggy Lipton

6 Richard Chamerblain

7 Tom Selleck

8 Kim Cattrall

9 Henry Simmons

10 Farrah Fawcett

11 Clint Eastwood

12 Don Johnson

13 Cher

14 Dean Martin

15 Jennifer Aniston

16 Linda Evans

17 Jimmy Smits

18 Annie Francis

19 Benjamin Bratt

20 Jennifer Garner

21 James Garner

22 Burt Reynolds

23 Jill Hennessy

24 Pierce Brosnan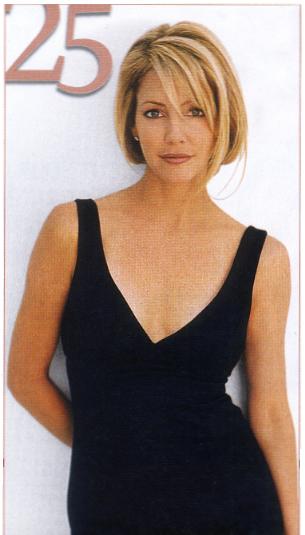 Heather Locklear
The contrast worked: the shampoo-girl looks versus the bitch-on-wheels behavior. Amanda Woodward (1993-98) on Fox's Melrose Place was a piece of work, and Heather Locklear made the show hotter than the Mojave. Her office attire, for instance, put Ally McBeal's skimpy suits to shame. Locklear's basic outfit, a tight jacket paired with a washcloth-size skirt and no blouse, was simple, and the actress wore it with style. We loved Locklear as a winsome cop on ABC's T.J. Hooker (1982-86), as a second-string diva on Dynasty (1981-89) and as the mayor's sassy communications director on Spin City (1999-2002), but she really killed on Melrose.
26 Steve McQueen
27 Catherine Bach
28 James Gandolfini
29 Diahann Carroll
30 Julie Newmar
31 The Men of Soul Food
32 The Women of Baywatch
33 Michael Landon
34 Tuesday Weld
35 David Duchovny
36 Michael Michele
37 Troy Donahue
38 Katie Holmes
39 Barbara Eden
40 Luke Perry
41 Jeri Ryan
42 Ashton Kutcher
43 John Forsythe
44 Dorothy Malone
45 Jessica Alba
46 Lucy Liu
47 David Cassidy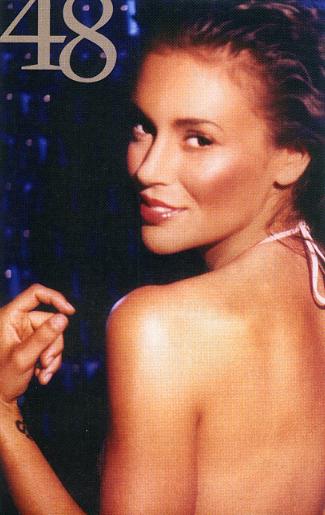 Alyssa Milano
Coppery toned and curved to perfection, Alyssa Milano has become a pinup we can't put down. The actress exposed nearly all in those revealing photos in Maxim and FHM but, thankfully, there's more to Milano than cleavage and barely there tankinis. As the bewitching babe of The WB's Charmed (1998-present), Milano creates an enchanting blend of sensuality and silliness that spills over into those kittenish 1-800-COLLECT commercials. We'll gladly accept her call.
49 John Schneider
50 Dawn Wells
---
Written by Jami Bernard, Michael Davis, Frank DeCaro, Greg Emmanuel, Anita Gates, David Hochman, Damian J. Holbrook, Michael Logan, Shawna Malcom, Richie Narvaez, Margy Rochlin, Robert Rorke, Herma Rosenthal, Ileane Rudolph and Danny Spiegel
---
There are probably scores of women that would be on my list that didn't make this one. Off the top of my head, in no particular order: Jamie Luner, Marcia Cross, Morgan Fairchild, Tina Louise, Maureen McCormick, Elizabeth Montgomery, Jenny Garth, Kathleen Robertson, Charisma Carpenter, Denise Richards, Tiffani Amber Theissen, Kelly Hu, Robin Givens, Kari Wuhrer, Judy Landers, Barbara Feldon, Amy Pietz, Nikki Cox, Elizabeth Berkley, Lydia Cornell, Dana Plato, Brooke Shields, Traci Lords, Terry Hatcher, Caren Kaye, Lindsay Wagner, Susan Saint James, Marisa Tomei, Jennifer Sky, Yancy Butler, Jamie Gertz...
---
Previous entry | Next entry | Back to Archives | Back to The Place