FHM
100
SEXIEST
WOMEN
IN THE WORLD

'Let every vote be counted!'
You might remember this cry coming from a former US vice president during his futile attempt to sneak into the White House. Yet it just as easily could have been FHM championing its poll to determine the world's 100 sexiest women. It wasn't until 1995, when FHM's international editions first kicked off this event, that such a definitive list existed. What makes it so official is that it's selected by you, the readers. You may take umbrage with past winners, a group that boasts a wide variety, including a redhead (Gillian Anderson in '96), a brunette (Teri Hatcher in '97), a blonde (Sarah Michelle Gellar in '99) and a former-blonde-turned-brunette who may someday be a redhead (Jenny McCarthy in '98). And you may hurl a potted plant through a window upon flipping the pages to find your favorite actress at No. 89. But there's certainly no arguing the authenticity and democracy with which this list is compiled—the American people have spoken. Not even Mr. Gore could disagree with that.

Ed Needham, FHM EDITOR-IN-CHIEF

Angie Harmon The law
NEW ENTRY
Playing assistant DA Abbie Carmichael on Law & Order, the dark and alluring Angie gives new meaning to the term "power of attorney," each week somehow making the legal profession seem remarkably sexy. Having made a name for herself on the ephemeral Baywatch Nights, she is also the voice of Commissioner Barbara Gordon on Batman Beyond. Football fans, however, will recognize the 28-year-old Dallas native as the beauty engaged to Jason Sehorn; the New York Giants star cornerback popped a surprise proposal in front of Jay Leno and The Tonight Show's national audience. Look for Angie in Good Advice later this year. Brooke Burke Wild one
NEW ENTRY
As the perfectly bronzed hostess of E!'s traveling party show Wild On..., Brooke essentially gets paid to span the globe and raise some hell. The Portuguese/French/Irish 29-year-old has explored traditions everywhere from Belize to Jamaica to Spain, but she does claim to have her limits. "The only thing I've refused to do is go on a lobster dive," says the former Frederick's of Hollywood model. "I have a bug phobia and they remind me too much of bugs." Sofia Vergara Latin doll
NEW ENTRY
As seems to be the case with all supermodels, Sofia was discovered walking along a beach. After scrapping plans to become a dentist, her popularity skyrocketed in 1995 when she became co-host of Univision's popular travel show Fuera de Serie. Since then she has launched her own Web site and has been dubbed "Latin Queen of the Internet" for receiving a Cindy Margolis-esque 12 million hits a month. The 28-year-old Colombian makes her first big-screen appearance this fall in Tim Allen's Big Trouble. Chyna Sexy musculature
NEW ENTRY
Born Joanie Laurer, Chyna first grabbed the attention of men around the world as "bodyguard" for the WWF's Degeneration X. The 30-year-old sexual behemoth went on to become the first female to hold a men's title in the WWF, and she also has the distinction of being the most astoundingly jacked (5-foot-10, 200 pounds) woman ever to grace the cover of Playboy. Although she recently went on a date with boy-band star Joey from 'N Sync, she does have brains: Chyna is multilingual and penned If They Only Knew, an autobiography in which she admits to having been bulimic before taking up bodybuilding. The Bush twins First daughters
NEW ENTRY
Named after their grandmothers, 19-year-old fraternal twins Barbara and Jenna Bush have done their best to avoid the media spotlight. Barbara has followed in the family footsteps by studying at Yale University while Jenna attends the University of Texas at Austin. Courteney Cox Friendly face
LAST YEAR: 43
While it remains a mystery as to why 36-year-old Courteney got hitched to the least-talented member of the Arquette clan, she's still half the reason men tune into NBC every Thursday-even if it's only while flipping the channel during Survivor commercials. Mandy Moore Pop sensation
NEW ENTRY
Mandy confesses that she always wanted to be a star-so much so that by age 6, she was already known as the "National Anthem Girl," regularly crooning the "Star-Spangled Banner" at sporting events in her hometown of Orlando. With two successful albums and international fame to her credit not much more than a decade later, the 17-year-old is being mentioned in the same company as pop mega-stars Britney and Christina. Jenny Garth Grown up
LAST YEAR: 53
Born in the same town—Urbana, IL—as portly film critic Roger Ebert, Jennie's first taste of Hollywood was not unlike many actors of her generation: She appeared on an episode of Growing Pains. It was after that when she settled comfortably into her role as ageless Kelly Taylor on Beverly Hills, 90210. Elle Macpherson Senior supermodel
LAST YEAR: 71
While legions of up-and-coming beauties flow in and out of Hollywood, 37-year-old Elle quietly maintains her position as one of the world's most sexy women. She has recently popped up as Joey Tribbiani's roommate Janine on Friends, and had a memorable performance swapping spit with Kate Capshaw in the miniseries A Girl Thing. Jules Asner Anchorwoman
NEW ENTRY
The eye-catching co-anchor of E! News Daily and co-host of the tantalizingly softcore Wild On... series, 29-year-old Jules has become one of cable television's most recognizable personalities. That's a far cry from where she was years ago, getting a degree in political science after quitting her brief modeling career. Julie Benz Vampiress
NEW ENTRY
While it might seem a questionable career move for Julie to have turned down a part in Eyes Wide Shut because it required her to go topless, the former competitive ice skater's career has blossomed since. The 26-year-old has made a name for herself first as 400-year-old bloodsucker Darla on Buffy the Vampire Slayer and now, on Angel. Lucy Lawless Warrior
LAST YEAR: 51
Lucy is sadly nearing the end of her stellar run as Xena: Warrior Princess with the show due to close shop this summer. Her role in an indie New Zealand film, however, indicates that this is not the last we've seen of the former Miss New Zealand. Rebecca Gayheart Southern belle
LAST YEAR: 40
She'll forever be remembered as the Noxzema girl—flirtatious, blushing, hot and pleasingly hygienic—but the 15-year-old girl who ditched the sticks of Kentucky for the Big Apple 13 years ago has fashioned a career that has exceeded all expectations. After a streak of big-budget Hollywood flicks such as Scream 2, Urban Legend and Jawbreaker, the blue-eyed beauty has started venturing down the indie path, this year appearing in controversial director James Toback's Harvard Man with Sarah Michelle Gellar. Gwyneth Paltrow Ice queen
LAST YEAR: 85
"Beauty, to me, is about being comfortable in your own skin," says Gwyneth. "That, or a kick-ass red lipstick." Not what you'd expect from the 27-year-old, but nothing comes as a shock on the heels of her singing debut, "Cruisin'," a duet with Huey Lewis that somehow reached the top of the Australian pop charts. Shannen Doherty Charmed life
LAST YEAR: 48
Hockey players will rejoice upon reading Shannen's following comment: "I don't care for chiseled features. Scars are good." The mercurial 30-year-old is part of the spellbinding threesome that makes up the cast of witches on The WB's Charmed. Christina Applegate Sweet thing
LAST YEAR: 80
While she will be forever thought of as Kelly Bundy from Married...with Children, Christina first made her mark with earlier roles such as Mallory's bandmate "Kitten" on Family Ties. Her next venture on the large screen comes later this year in the romantic comedy The Sweetest Thing. Catherine Bell Pliot
NEW ENTRY
Proving the age-old adage that guys are suckers for women in uniforms, London-born Catherine has made her mark in Hollywood as Lt. Col. Sarah "Mac" MacKenzie on TV's JAG. Yet the self-professed lover of cold, rainy weather didn't even get credited for her role as Isabella Rossellini's nude body double in 1992's Death Becomes Her. Bridgette Wilson-Sampras Tennis wife
LAST YEAR: 98
Those bored enough to suffer through televised tennis might recognize Bridgette as the stunner to whom cameras turn every time Pete Sampras makes a shot or tugs at his jock. Others will recall her from The Wedding Planner. Jessica Biel Good girl
LAST YEAR: 67
After an ill-advised attempt to break out of the good-girl mold cast by her role as a preacher's daughter on Seventh Heaven (she posed topless for a magazine), a regretful Jessica said, "I don't want that image. I don't want to be some bad girl." Look for the 19-year-old as Freddie Prinze Jr.'s love interest in the upcoming Summer Catch. Gena Lee Nolin Jungle queen
NEW ENTRY
Gena Lee spent a year being subjected to Bob Barker's geriatric come-ons as a The Price is Right girl prior to wearing the vaunted red one-piece on Baywatch. She is now filling the shoes of ex-Charlie's Angel Tanya Roberts in the TV adaptation of Sheena. Cindy Crawford Oiled machine
LAST YEAR: 46
"My body is a well-functioning machine. "A quote you'd expect of Chyna, it instead comes from modeling's version of the Energizer Bunny. Still strong at 35, the owner of the world's most famous mole awaits the birth of her second child this fall. Erinn Bartlett Girl No. 1
NEW ENTRY
Since wowing moviegoers and critics with her portrayal of Girl No. 1 in the lame Jaws rip-off Deep Blue Sea, it's been blue skies for Massachusetts-born Erinn. Armed with a tattoo of a turtle on her toe, the former college lacrosse star heated up screens last year in The In Crowd. Leslie Bibb Schoolgirl looks
LAST YEAR: 49
An avid antiques collector and boxing fan, Virginia-bred Leslie keeps a sound soother in her trailer to help her sleep. That might be the key to her maintaining seductive schoolgirl looks that belie her 26 years, making the former Lee Jeans "dimwit model" the No. 1 reason why warm-blooded males tune into TV's Popular. She has also excelled in big-screen roles, as evinced by her performances in This Space Between Us, The Skulls and See Spot Run. Xenia Seeberg Interstellar siren
NEW ENTRY
As the sexy space love-slave Xev Bellringer from the Sci Fi Channel's Lexx, Xenia is breathing new life into TV science fiction...not to mention millions of jones-ing Trekkies. The 29-year-old previously starred in the indie film Hilda Humphrey, and is currently in a German TV series that's too difficult to pronounce. Krista Allen Soap star
NEW ENTRY
A daytime-drama mainstay on both The Bold and the Beautiful and Days of Our Lives, the former Baywatch babe's original claim to fame was as the Busty Woman on Elevator to whom Jim Carrey got close in Liar Liar. Prior to that, she managed to star in seven of the vaunted Emmanuelle films. Natalie Portman Queen Amidala
NEW ENTRY
Natalie scored big when she won the role of Queen Amidala in Star Wars: Episode I—The Phantom Menace. But aside from the upcoming prequels, the Israel-born 19-year-old won't be acting for the next four years while focusing on her studies at Harvard. Beyonce Knowles Destiny's kid
NEW ENTRY
There's no doubting the huge talent of Destiny's Child's 20-year-old star. Beyonce recently lent her silky vocals to the group's single "Survivor," which was inspired by the TV show of the same name. Kari Wuhrer Higher learning
LAST YEAR: 76
Among the highlights of Kari's 30-plus releases are Higher Learning, The Crossing Guard and the underrated '98 release Phoenix. Among the lowlights is The Disappearance of Kevin Johnson, which had nothing to do with the former Phoenix Suns point guard. Kate Hudson Mrs. Robinson
NEW ENTRY
Although she did inherit her mother's good looks, Kate is long since removed from being known simply as Goldie Hawn's daughter. She's achieved such fame, in fact, that some have resorted to calling Black Crowes front man Chris Robinson "Kate Hudson's husband." Katehrine Heigl Superhuman
NEW ENTRY
Katherine got her humble start years ago modeling for the Sears catalog. Although some would argue that her rise to prominence kicked into high gear with her compelling performance as Jade in Bride of Chucky, it was more likely her role as superhuman Isabel Evans on TV's Roswell that launched her to stardom. Penelope Cruz Spanish seductress
NEW ENTRY
Penelope won a Goya Award—having nothing to do with beans, it's essentially the Spanish Oscar for Best Actress—prior to heating up American screens. She's magnanimous as well, donating her paycheck from The Hi-Lo Country to Mother Teresa's children's sanctuary. Tia Carrera Wayne's babe
LAST YEAR: 57
Tia's first name actually comes from her childhood: When her little sister tried to pronounce big sister's given name of Althea, it came out "Tia." Her last name is a tribute to screen siren of yore Barbara Carrera. Just a couple of facts to remember the next time you pop in Showdown in Little Tokyo. A less fortunate thing to be aware of is that the 34-year-old used a body double for her nude hot-tub scene in that flick. Gillian Anderson Special agent
LAST YEAR: 60
Spending most of her time as the subdued yet sexy Dana Scully on The X-Files, Gillian made an impressive leap in last year's drama The House of Mirth. The movie required she play "a woman who has the beauty men admire and women envy"—a walk in the park for the sultry redhead. Amanda Peet Jersey girl
LAST YEAR: 61
Having established herself as the star of The WB's Jack & Jill, 29-year-old Amanda has set her sights higher: She wants to be cast as a stereotypical Jersey girl. "Somebody has to write me this part or I'm going to kill myself," says the New York City native. "I want to be the girl on the boardwalk with the Camaro, the dice and the cheesy perfume." Meg Ryan Cutie pie
LAST YEAR: 69
Few actresses pull off both cute and sexy better than 39-year-old Meg, but she'd probably have shed the "cute" tag had she not turned down Sharon Stone's revealing lead role in Basic Instinct. A celebrated split with longtime beau Dennis Quaid now behind her, she can be seen in the upcoming Kate & Leopold, in which she plays a scientist who accidentally transports a man into the future. Tara Reid Josie drummer
LAST YEAR: 55
No one can accuse Tara of lacking confidence: "I can make a scene that's not supposed to be sexy, very sexy. It's a power you're born with." She recently wielded that power as drummer Melody Valentine in the cartoon-turned-movie Josie and the Pussycats. Janet Jackson Jackson No. 9
LAST YEAR: 88
It's hard to believe that the youngest member of the Jackson clan got her big break as Willis Jackson's girlfriend Charlene on Diff'rent Strokes. She also had a role in TV's Fame and appeared on The Love Boat, and more recently she starred as Denise Gaines in Nutty Professor II: The Klumps. Dominique Swain College girl
LAST YEAR: 97
Since making drooling idiots out of numerous men with her knowing seductiveness as Dolores "Lolita" Haze in 1997's Lolita, Dominique has become a screen fixture. Incredibly, the 20-year-old is somehow juggling college with six films due to be released this year. Daisy Fuentes Weather girl
LAST YEAR: 75
Daisy boasts a resume that includes her own exercise video, host duties on House of Style, an appearance on The Larry Sanders Show and a stint hosting America's Funniest Home Videos. That's quite a distance from her days as a weather girl for New Jersey's Spanish-speaking WXTV-41. Nicole Kidman Tough Aussie
LAST YEAR: 68
Tough is likely not a word you'd associate with Nicole, but it fits her to a T. While rehearsing a dance routine for her role in Moulin Rouge, the statuesque 33-year-old Aussie fell and suffered a broken rib. Undaunted, she healed up and resumed production.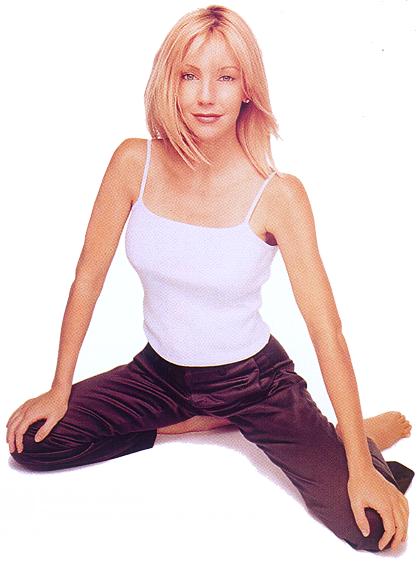 Heather Locklear Thirty-nine forever
LAST YEAR: 86
More than two decades after her first TV role, Heather remains one of Hollywood's most sought-after commodities. She followed a long and successful run on Melrose Place with a smooth transition to her current role as Caitlin Moore on Spin City, and unbelievably, will hit the big four-0 this year. That will undoubtedly send millions of 20- and 30-something women into a deep depression. Reese Witherspoon Psycho magnet
LAST YEAR: 87
What's with Reese attract-ing nutcases? First, in 1996, she gets tangled up with an unbalanced Mark Wahlberg in Fear, and then, in Cruel Intentions, she gets used by unsavory Ryan Phillippe. Last year she was the romantic interest of wackjob Christian Bale in American Psycho. Cindy Margolis Swimsuit model
LAST YEAR: 95
The oft-downloaded Cindy is the only model to appear in the swimsuit editions of Sport, Inside Sports and Muscular Development all in the same year: 1997. Even more amazing is that the 32-year-old remains popular despite appearing as a tennis instructor in 1998's Chairman of the Board with the infamous Carrot Top. Rose McGowan Former Mrs. Weirdo
LAST YEAR: 94
"My instinct is that when people attack me, I want to knock their block off," says 27-year-old Rose, thus proving that her split with weirdo Marilyn Manson did nothing to diminish the trademark sass she first exhibited by wearing the skimpiest of dresses at the 1998 MTV Video Music Awards (afterward she claimed that she chose the getup "to cause an uproar"). But the French-Italian, whose last appearance was as the alluring Miss Kitty in the comedy Monkeybone that hit theaters this past February, is not without her soft side. Growing up in a hippie sex commune in rural Italy, she had a pet lamb that she "took everywhere and hand-fed from bottles." Charisma Carpenter Avon lady
LAST YEAR: 35
After skydiving to celebrate her 26th birthday, The WB's Angel had a clause added to her contract to discourage such fun-filled activities. Undeterred, Charisma, who gets her name from a bottle of cheap Avon perfume, claims she'll instead focus her energy on rock climbing. Teri Hatcher Timeless beauty
LAST YEAR: 100
After having peddled rickety electronics for years, Radio Shack finally took a step in the right direction when it brought this timeless beauty on board for its TV ad campaign. Beyond her stellar portrayal of Lois on Lois & Clark, De Anza College's most famous graduate has come a long way since her halcyon days doing underrated films such as Tango & Cash. Even that role, in which she played the female lead alongside mega-stars Sly Stallone and Kurt Russell, was preceded by far more humble stints, including one as a San Francisco 49ers cheerleader and another as a dancing mermaid on The Love Boat. For more of the buxom 36-year-old, check her out with Portia de Rossi in the upcoming comedy Two Girls from Lenmoore. Rachael Leigh Cook Pussycat
LAST YEAR: 25
As if gracing the cover of FHM's inaugural US edition isn't proof enough that 21-year-old Rachael is one of Hollywood's hottest young stars, witness her performance as cartoon-hottie-brought-to-life Josie McCoy in Josie and the Pussycats. Daniela Pestova Czech chameleon
LAST YEAR: 65
Having shelved her plans to major in education at a university in the Czech Republic, Daniela probably doesn't regret her decision. A linchpin of Victoria's Secret as well as Sports Illustrated's swimsuit issue, she's earned the nickname The Chameleon due to her ability to change her look from shoot to shoot. Shockingly, the perfectly proportioned 30-year-old has a 4-year-old son. Liv Tyler Rock daughter
LAST YEAR: 37
For much of her childhood, Liv was burdened with the horrifying prospect that "rocker" Todd Rundgren—he of "Bang on the Drum All Day" infamy—was her father. Discovering the truth apparently gave her the confidence to make serious noise in Hollywood. Julia Roberts America's sweetheart
LAST YEAR: 63
While her B-movie maven brother, Eric, may have been better off taking a different career path, Julia made a wise move when she chose to forgo her first aspiration of becoming a veterinarian. Possessing a rare combination of sweetness, intelligence and sex appeal, the 33-year-old's remarkable career continues to thrive more than a decade after she wowed audiences with her dynamic portrayal of call girl Vivian Ward in Pretty Woman. The Georgia native next appears along with John Cusack, Billy Crystal and Catherine Zeta-Jones in this summer's comedy America's Sweethearts. Vanessa Marcil Head games
LAST YEAR: 42
While her role in Beverly Hills, 90210 bears mentioning, Vanessa's portrayal of a dandruff sufferer in Head & Shoulders TV ads is what cemented her place in the minds of American men. She turned down a Playboy cover, however, because she's shy about parts of her body that are not susceptible to dandruff. Mena Suvari Consenting adult
LAST YEAR: 38
Soon after tantalizing us in American Pie, Mena created an uproar by par- taking in an "improper" onscreen romance with Kevin Spacey in American Beauty. The role may have also convinced her to wed cinematographer Robert Brinkman, a fortunate fellow 16 years her senior. Neve Campbell Fan favorite
LAST YEAR: 19
Neve's popularity extends beyond the male set: While she was using a public restroom, a fan put a pen and paper underneath the stall door and requested an autograph. The ever-gracious Neve complied, asking only that she be allowed to first complete the task at hand. Susan Ward Sexy Southerner
LAST YEAR: 22
While Susan certainly has many fine qualities, good eyesight is not among them. "I wear glasses most of the time because I'm as blind as a bat," she admits. "I was once at a party and had left them at home. So when I saw some friends standing outside, I rushed over and ran smack into a sliding glass door!" Look for the optically challenged 25-year-old in Going Greek later this year. Melissa Joan Hart Spellbinding siren
LAST YEAR: 52
Although most widely known for her leading role on TV's Sabrina: The Teenage Witch, it was Hart's award-winning performance as the annoying yearbook girl in 1998's Can't Hardly Wait that launched her to the fore. The perky 25-year-old has lately busied herself behind the camera, as the voice of characters in a number of recently released animated features, including Recess: School's Out and Batman Beyond: Return of the Joker. The good news is that she's moving back to the big screen, slated to star in Backflash this winter. Jenny McCarthy Good-time girl
LAST YEAR: 50
As Jenny set out to forge a career in Hollywood, her mother gave her the sage advice, "Be like Vanna White." Vanna probably wouldn't have stooped so low as to appear in last year's wretched Anaconda clone, Python, but Jenny has made quite a name for herself nonetheless. Yasmine Bleeth Brainy beauty
LAST YEAR: 56
More than just another Baywatch babe, Yasmine has flexed her intellectual muscles with strong showings on Jeopardy! and its less snooty, Alex Trebek-free counterpart, Rock & Roll Jeopardy! On the acting front, she starred alongside Chili Peppers bassist, Flea, in the independent Italian film Goodbye Casanova. Alicia Silverstone Modest hottie
LAST YEAR: 83
"My boyfriend calls me Princess, but I think of myself more along the lines of Monkey and Retard." Such a humble remark is not surprising coming from a girl who made a New Year's resolution a few years ago to stop cracking her knuckles. Look for the soon-to-be 25-year-old later this year in Global Heresy, a story about a rock band that's lead singer disappears. Heide Klum Supermodel
LAST YEAR: 24
While it's not uncommon for someone to clutch a grungy rabbit's foot or a rusty horseshoe for good luck, finding solace in a pouch filled with one's own baby teeth is considerably more outrageous. It remains to be seen whether she'll leverage her quirky habit to convince Trident or Care-free to make her their spokeswoman. Ashley Judd Kentucky wildcat
LAST YEAR: 34
Ashley turned down the lead in 1992's Kuffs because she refused to do a nude scene (she instead accepted the part of Wife of Paint Store Owner). The University of Kentucky grad can be seen next as an Italian photographer in the biopic Frida Kahlo. Laetitia Casta French firebrand
LAST YEAR: 28
Although she has yet to make inroads to US films, the Venus-like former Victoria's Secret model has starred in several French flicks. Most notable is 1999's Astérix et Obélix contre César, the most expensive French film ever made. Kirsten Dunst Young veteran
LAST YEAR: 99
"I'd like to grow up and be beautiful," Kirsten recently said. "I know it doesn't matter, but it doesn't hurt." There's no denying that good looks have contributed to her success, helping her cram in more than 70 commercials and 30 movies before the ripe old age of 19. Her latest project is playing the role of Mary Jane Watson, Peter Parker's love interest in the Spider-Man movie due out next year. Kim Smith Denim dream girl
LAST YEAR: 54
Most find it hard to believe that Kim was discovered by accident at a 1998 model search. Accompanying a friend, she was pulled aside by the event's coordinator, who was understandably perplexed that her nametag read "guest." Not bad for someone who was a varsity high school golfer at the time. Drew Barrymore Charlie's angel
LAST YEAR: 82
The young lady who once received a quilt from Steven Spielberg for her birthday with a copy of her Playboy layout and a note that said, "Cover yourself up," has upward of five films due out this year. The highlight will be her role as space babe Barbarella in the remake of the Jane Fonda classic. Heather Graham Rollergirl
LAST YEAR: 36
Although she was voted "Most Talented" by her high school class, Heather somehow flew under the radar of the imbeciles who named someone else "Most Unbelievably Sexy." Once you've watched her play Rollergirl for the hundredth time, check out the former Toys "R" Us employee and daughter of an FBI agent alongside Chris Klein in this spring's cutesy comedy Say It Isn't So. Jeri Ryan Seven of Nine
LAST YEAR: 90
Jeri deserves a great deal of credit for having convinced people that watching Star Trek was actually cool. But her fame as tightly clad Seven of Nine on Star Trek Voyager was not without its perils; her original getup was so tight that it caused the former Miss Illinois to pass out four times. Having overcome that obstacle, the Northwestern University grad was last seen having blood work done on her neck in Dracula 2000. Sandra Bullock Sexy fed
LAST YEAR: 21
No longer "the girl next door," Sandra successfully shed that tag with last year's progesterone-laden performance as FBI agent/beauty queen Gracie Hart. The 36-year-old Virginian also proved she's not just a pretty face with her stirring portrayal of a rehabbing addict in 28 Days. Tyra Banks Coyote gorgeous
LAST YEAR: 5
"A lot of people think I have implants because I have the biggest boobs in the business," says Tyra. "But I was a 34C when I was 17." There's no denying Tyra's powerful allure as an elite supermodel, and after her sexy performance in last summer's Coyote Ugly, there's also little doubting her allure as an actress. Jamie Pressly Sexy dancer
LAST YEAR: 26
Schooled in ballet at an early age by her classically trained mother, Jaime showed her appreciation by legally emancipating herself from her parents at age 15. Presently enjoying the fruits of Hollywood as promiscuous dancer Audrey on TV's Jack & Jill, the North Carolinian has the distinction of having spurned the advances of meathead Jean-Claude Van Damme on the set of 1999's forgettable Desert Heat. Her most unforgettable role to date, however, came when she played Drew Barrymore's body double for the nude scenes in 1992's Poison Ivy. The 23-year-old next shows up in the appropriately titled teen-movie spoof, Teen Movie. Jenna Jameson Lip sevice
LAST YEAR: 74
One of the few to successfully cross over to mainstream films from the adult industry, Jenna made a splash with a memorable scene in Private Parts and heated up two episodes of Nash Bridges. She also exposed more talent when she sang the title song for her film Lip Service. Jennifer Aniston Mrs. Pitt
LAST YEAR: 12
Jennifer is the only person on the planet who can brag about having Brad Pitt as her husband and Telly Savalas as her godfather. She appeared in a few episodes of Herman's Head before settling for her slightly more lucrative current role as Rachel on Friends. Catherine Zeta-Jones Princess of Wales
LAST YEAR: 18
Having escaped death as an infant from a virus that stopped her breathing-she still bears the tiny tracheotomy scar-this Swansea, Wales, native is nestled comfortably among Hollywood's elite leading ladies. Now married to Traffic co-star, Michael Douglas, she'll be appearing this summer as John Cusack's ex in the comedy America's Sweethearts. Shannon Elizabeth Pie chick
LAST YEAR: 16
Prior to popping up as the object of affection for Jason Biggs's character in American Pie, Shannon was Enrique Iglesias's love interest in the video for his third American single, "Be With You." Expect Enrique to be one of many drooling profusely when the sexy Texan delivers a second helping of Pie this summer. Mariah Carey Grammy winner
LAST YEAR: 27
For all the Grammys, revealing outfits and tabloid linkings to Derek Jeter, one fact about Mariah stands out from all the rest: Among the guests at her wedding to ex-beau Tommy Mottola was legendary rocker Ozzy Osbourne. (No doves at the ceremony.) Lucy Lui Nasty lawyer
LAST YEAR: 77
From her role as Alice in her University of Michigan rendition of Alice in Wonderland to her portrayal of a catty lawyer on Ally McBeal to her gravity-defying role as Alex in Charlie's Angels, Lucy can't be accused of being a one-trick pony. Considering how well versed she is in the art of Kali-Eskrima-Silat (knife-and-stick fighting), it would be unwise to accuse the 33-year-old of anything. Cameron Diaz Sexy Mary
LAST YEAR: 14
How is it that despite trying to look disheveled and decidedly unsexy in Being John Malkovich, Cameron still managed to look hot? The 28-year-old San Diego native returned to portraying beautiful people when she played the princess opposite Michael Myers's ogre in Shrek this spring. Shania Twain Northern light
LAST YEAR: 2
The name Shania means "I'm on my way" in Ojibwa, a Native Canadian tribal language. But with two multi-platinum albums and the distinction of being one of country's most massive stars, her name should now translate to "I'm there." The peach-pie-loving 35-year-old produced a special "international" version of "Come on Over" for her native Canada in 1999 (no word on whether she did it by simply adding "eh" to the end of every other line) and readily admits that her songs' lyrics are often lacking in the substance department. "I write with comic relief," Shania says. "You can't take it seriously. I don't think hardcore country fans realize it, but everyone else knows that the songs are meant to be humorous and corny." Humorous? Maybe. Corny? Undoubtedly. Jessica Simpson Sexy Texan
LAST YEAR: 30
"It's OK to have cellulite," says Jessica. "Everyone has cellulite." Everyone but her, of course, which doesn't seem fair considering that the sexy Texan's favorite meal consists of chicken-fried steak with gravy, mashed potatoes and cornbread. With a debut record having hit triple-platinum, the 20-year-old's future certainly looks bright. Ali Landry Chip wrangler
LAST YEAR: 47
No longer simply the Doritos girl-although she does do a stellar job of getting whacked in the forehead by a chip in the ad unveiled during the 2001 Super Bowl-Ali somehow made a show out of America's Greatest Pets. She parlayed that performance into a recurring role as Natalie on Felicity. Angelina Jolie Loose cannon
LAST YEAR: 29
Yes, she's the daughter of Jon Voight. Yes, she's married to Billy Bob Thornton. Yes, she's got the most unbelievable set of pouty, beautiful lips this side of Kim Basinger. But what makes this 25-year-old truly irresistible is the fact that she has an interest in mortuary science. Sarah Michelle Gellar Vampire buster
LAST YEAR: 11
Best known as both Buffy the Vampire Slayer and the chick who made out with Selma Blair in Cruel Intentions, Sarah first gained notoriety as one of the cute little girls from the 1982 Burger King commercial that was the first to out-and-out slam the golden-arched competition. McDonald's sued her for her participation, which may or may not have inspired her to take up tae kwon do and eventually achieve brown-belt status. Nikki Cox Cat's fancy
LAST YEAR: 70
The lusciously curvy star of The WB's Nikki claims "goofy" is the word that best describes her personality. Other words are needed for her engagement to former Unhappily Ever After co-star Bobcat Goldthwait, whose grating voice was used for the show's puppet. Katie Holmes Innocent
LAST YEAR: 23
A perfect balance of painfully cute and subtly seductive, Katie continues to wow WB fans as wholesome Joey Potter on Dawson's Creek. In the recent thriller The Gift, she shed her good-girl image to reveal-in more ways than one-her "sex kitten next door" allure. Faith Hill Country beauty
LAST YEAR: 9
Think Faith has a maniacal fan base? Not only did her sexy skirt-and-top ensemble from the cover of the platinum-selling Breathe fetch more than $5,000 on eBay, but another overzealous freak somehow made off with a 14-by-48-foot billboard bearing her gorgeous visage from the side of LA's Wilshire Boulevard. Charlize Theron Cider-house hottie
LAST YEAR: 41
With such roles as the sexually charged Helga Svelgen in 2 Days in the Valley, Charlize has become one of Hollywood's hottest stars. That constitutes quite an upset when considering she was discovered while throwing a tantrum in a bank. Famed talent manager John Crosby witnessed her outburst and offered his services on the spot. Elizabeth Hurley British wit
LAST YEAR: 13
"Being English, I always laugh at anything to do with the lavatory or bottoms," says Elizabeth. That may sound strange coming from someone as elegant and classy as she, but not after considering she was once a pink-haired punk-rocker who practiced kissing on her older sister, Katie. Pamela Anderson Legend
LAST YEAR: 39
Long before lending her talents to V.I.P., Baywatch and Playboy, this Canadian import was the "Blue Zone" girl for Labatt's beer. The idea for the campaign was spawned when Pamela was spotted at a Canadian Football League game wearing a formfitting Labatt's T-shirt and her visage was transmitted to the stadium's JumboTron. Rabid Toronto fans were so moved by the young lady that she was called down and introduced at the 50-yard-line. The rest, as they say, is history. Jennifer Love Hewitt Party girl
LAST YEAR: 10
What could director Kevin Smith have been sniffing the day he passed over Jennifer in favor of Renee Humphrey for the part of Tricia Jones in 1995's Mallrats? The 22-year-old next sends jaws to the floor as the sexy devil in the upcoming The Devil and Daniel Webster. Salma Hayek Hot tamale
LAST YEAR: 20
A lot of time has passed since young Salma got herself into trouble by terrorizing the nuns that ran her Louisiana boarding school. Since then, despite a first name that translates to "corpse" in Italian, the Mexican/Lebanese beauty has become Hollywood's most exotic import since Sophia Loren, a point sure to be driven home this winter when she stars alongside fellow stunner Ashley Judd in Frida Kahlo. Anna Kournikova Tennis fantasy
LAST YEAR: 31
Would anyone even care if Lady Anna never won a singles title as a professional tennis player? Despite the dubious winless streak, the Russian-born 19-year-old remains the top draw on the women's tour, as well as the Internet's most frequently downloaded athlete. Carmen Electra Ex-Mrs. Rodman
LAST YEAR: 15
"I was watching a special on real-life maximum-security-prison guys and saw my poster in quite a few cells," says 29-year-old Carmen, somehow surprised at her popularity among the incarcerated. Expect felons everywhere to hunt down copies of Electra's newest film, Perfume, due out this fall. Christina Aguilera Vocal goddess
LAST YEAR: 8
Long since her halcyon days of singing the national anthem at Pittsburgh's now-demolished Three Rivers Stadium, Christina holds the unusual distinction of having danced to her very own "Genie in a Bottle" at her senior prom. An alumna of Disney's Mickey Mouse Club (yes, the same one as Britney), the Irish-Ecuadorian 20-year-old last year released "Mi Reflejo," a Spanish version of her smash debut. Rebecca Romijn-Stamos Bombshell
LAST YEAR: 6
When asked about her best feature, Rebecca says, "My vast knowledge of show tunes." Up next for the gal dubbed The Jolly Blond Giant in high school is this year's release of Rollerball, a remake of the 1975 cult film. Halle Berry Dark and stormy
LAST YEAR: 17
Halle deserves a great deal of credit for sticking with an acting career that began with the Aaron Spelling- produced Charlie's Angels '88 (the pilot never made it on air) and the short-lived Who's the Boss spinoff (yep, it spawned a spin-off) Living Dolls. The 1986 Miss USA first runner-up somehow survived those questionable efforts, and then burst on the scene in 1991 with her first feature role as a crack addict in Jungle Fever. More rough waters followed, with Halle enduring a rocky four-year marriage to baseball star David Justice, and passing on Sandra Bullock's role in Speed. But the Cleveland native bounced back to harness the elements as Storm in X-Men last summer, and her latest effort sees her starring alongside John Travolta and Hugh Jackman in Swordfish. Jessica Alba Dark angel
LAST YEAR: 44
After an ever-so-tempting tease of a stint on Beverly Hills, 90210, the darkly alluring Jessica somehow ended up on an episode of Love Boat: The Next Wave. Undaunted—even the PADI-certified scuba diver couldn't save that show—she's found a comfortable home as genetically engineered, motorcycle-riding Max on Dark Angel. Tiffani Thiessen Blonde sensation
LAST YEAR: 72
Not one to forget the past, Tiffani recalls her humble beginnings appearing in an ad for Peaches and Cream Barbie: "They never let me hold Barbie," she says. "I only got to hold Ken. I guess I wasn't blond enough." Now blond, she's outgrown playing with dolls and has what Howard Stern calls "the best breasts in Hollywood."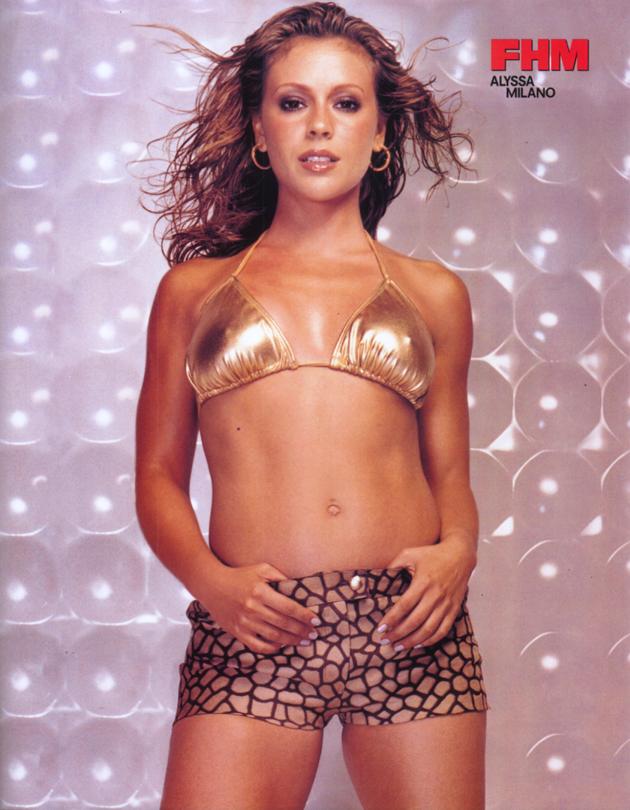 Alyssa Milano Witchy woman
LAST YEAR: 7
Removed from her years on Who's the Boss, 28-year-old Alyssa is now lovable witch Phoebe Halliwell on TV's Charmed. Most impressive: The animated character Ariel from The Little Mermaid was created based on a photo of then 17-year-old Alyssa. Britney Spears Pop star
LAST YEAR: 4
It seems as if eons have passed since 11-year-old Britney was strutting her stuff as a member of the Disney Channel's ill-fated Mickey Mouse Club. Justin Timberlake, her current beau, also wore the round black ears, but wisely chose to let Britney fill out before making his move. Now a member of the voting populace, she holds the distinction of being the hundredth member to join the esteemed "Milk Mustache Ad"community.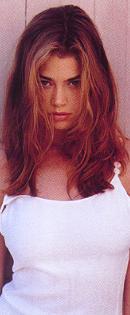 Denise Richards Wild thing
LAST YEAR: 3
Denise broke many men's hearts with her memorable ménage à trois in 1998's Wild Things. The tides turned earlier this year, however, when in Valentine, the 29-year-old had her heart broken—or more accurately, surgically removed. Look for the avid kickboxer later this year as a drug dealer's girlfriend in Empire. Jennifer Lopez Still champion!
LAST YEAR: 1
In the seven years FHM has conducted this poll across international editions, no woman had taken home top honors twice...until now. A back-to-back winner, 30-year-old Jennifer continues to wield her drawing power in both record stores and the box office.