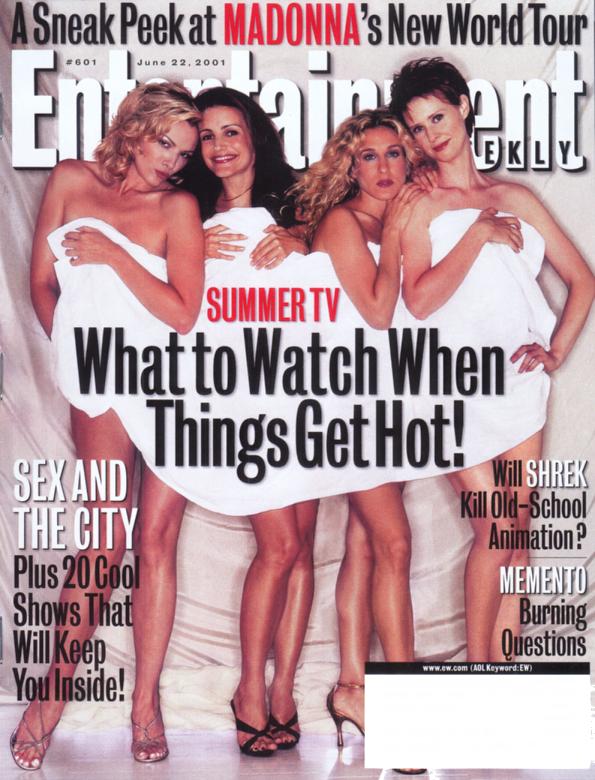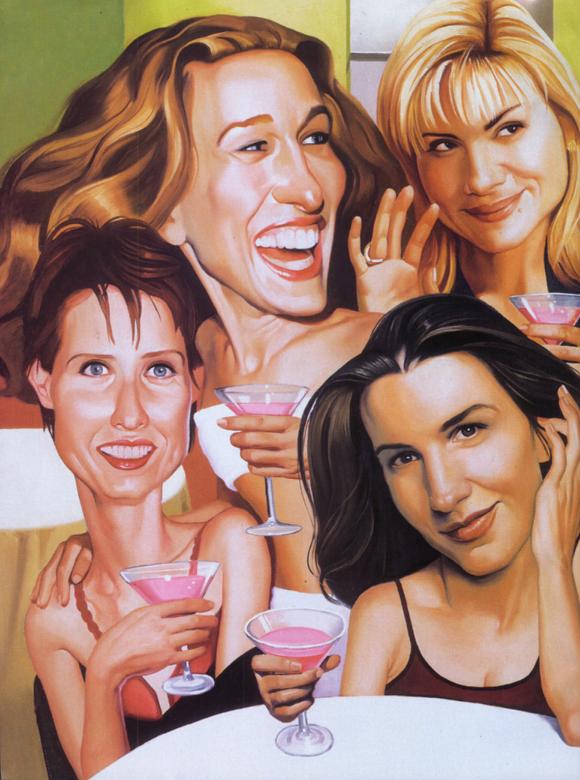 The ABC's of SEX
Just in time for the fourth season of the hit HBO show, EW has compiled Everything You'd Want to Know About SEX AND THE CITY...in handy alphabetical order • by Caroline Kepnes
A • "All Righty" The flaccid response Trey (Kyle MacLachlan) gives to Charlotte's marriage proposal. What'd you expect from a guy who has trouble getting "a stiff breeze" in the bedroom?
B • Baby Shower "Hell on earth that only your closest friends can inflict on you," according to Carrie
C • "Crouching Charlotte, Hidden Hummer" Carrie's term for Charlotte "I went to Smith!" York's illicit movie-theater act
D • Doing It Like a Man Practicing Samantha-style love-'em-and-leave-'em liaisons
E • Eisenhower Samantha's Upper East Side neighbors haven't had intercourse since his presidency, prompting her move to the sexier meatpacking district.
F • Frenemies Hybrid of friend and foe, as exemplified by the "sisters" of Kappa Kappa Gamma who cheerily have lunch with their old friend Charlotte, and then shrilly balk at her vulgarity
G • Georgette Hamilton A thirtysomething gal who slathers on the oil and tans like a twentysomething
H • Heterosexual Holy Grail A man who, according to Miranda, likes "stability," "routine," and "knowing there's people waiting at home" for him
I • "Idiot Stick Figure With No Soul" Carrie's term of "endearment" for Big's 25-year-old modelish wife
J • Juggs Trey's secret guilty pleasure
K • Kentucky Fried Chicken The cure for the munchies that Carrie indulges in with her scooter-riding summer fling while high on $400/oz. Canadian pot
L • Le Seur Peas The gourmet veggie Samantha uses to try to seduce canned-good-collecting man of the cloth "Friar F---." According to Samantha, "They're the best."
M • Modelizer A man whose obsession with catwalkers prevents him from walking the walk with "realer" women
N • New York Times The source of both good (a Sunday Styles section story kicked off a relationship between Carrie and John Corbett's furniture designer Aidan) and evil (wedding announcements)
O • "Open-Door Dump" A water-closet no-no committed by Miranda's New Yorker cartoonist boyfriend (remember, this is a woman who went "an entire relationship" without doing a No. 2 in a boyfriend's apartment)
P • "Please, This Isn't the Gap." The dis a Banana Republic dressing-room attendant directs at Carrie and the guy she's making out with inside the store
Q • Question Mark The piece of punctuation that turns Carrie's "Single & Fabulous!" New York magazine profile into a "Single & Fabulous?" nightmare
R • Re-virginization What results from getting the female sex organ re-stitched
S • Swing The not-just-for-playgrounds accessory on which Samantha and a gentleman caller have some ups and downs
T • Tantric Celibacy A Buddhism-inspired philosophy that posits that the "only thing hotter than sex is not having sex." Samantha isn't convinced.
U • Ultra Texture Trojans with Reservoir Tip These fall out of Carrie's purse during her first encounter with Mr. Big
V • Vera Wang A wedding-gown emporium/Charlotte theme park
W • "World's Smallest Cedar-Lined Den of Iniquity" The S&M chamber that shocks Samantha after she's invited back to the bedroom of a seemingly conservative litigator
X • X The unknown part of a relationship with a former flame; see Carrie's post-breakup status with Mr. Big, which she discovers works out to the algebraically sound but emotionally doomed equation "Cosmopolitans plus Scotch equals friendship with an ex."
Y • Yogasms What Samantha experiences during a private "session"
Z • Zagat's Guide to Churches The directory Carrie accuses Charlotte of perusing after she describes a house of worship as "one of the best on the East Side"
---
2 • The number of advanced yoga classes (along with a hit of Hawaiian Gold) that it takes to survive a night with a man Samantha likens to Mount Everest
25 • The age of women who endure tiny apartments, inexperienced boys, and adulterous fortysomething husbands
1,000,000 • Amount in dollars, of Charlotte's prenuptial worth
2,000,000 • Number of bachelors in New York City, according to Carrie's Learning Annex class "Bright Lights, Date City"