We got several pieces of great information about the life of Isaac A. Flint, Sarah's first husband:
James Clyman Diary
Letter from Fremont to Clyman
Oregon Historical Quarterly: "Golden Gate to Columbia River on the bark Keoka: Isaac A. Flint's Journal"
History of Washington
And, we got family stories, about which the truth is difficult to discerne. But first, here's a picture of their youngest son, Purdy (maybe Isaac looked like him), but this guy was three years old on the trail.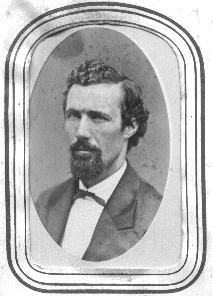 All the family stories (from Sarah's side.) say that she and husband Isaac argued on the trail to California with the Grigsby-Ide Party, and he split and went to Oregon and she to California. We think this is not the whole story. More likely it is either:
a.) The arguement occured in California after they arrived in '45.
or
b.) The arguement occured as described, but it was Sarah who went to Oregon with her twin sister Emma and her husband Coleman Smith and Isaac went to California. If anybody split, we think this is the likely scenario, because one might assume that Sarah loved her twin more than she loved her husband at this point, perhaps, maybe.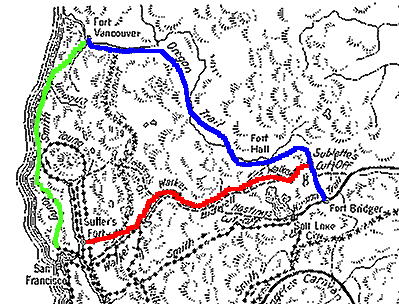 To add to the confusion is the fact that Bancroft puts a "?" next to "Flint" in what came from the Grigsby-Ide party into California, and Oregon in 1845 (a fine web page) adds to the confusion, as there we find the Flints, all of them arriving in Oregon along with the Coleman Smiths. (It should be noted, the reference is the Oregon Historical Society, and it's predecessors.)
But we have Isaac Flint claiming he arrived in California, and in fact, Clyman's diary which says he met the guy in Jan '46, and Fremont mentioning him in his letter back to Clyman. So go figure.
And this is Flint's page, so we won't go figure anymore like going into Sarah's page (In progress)
James Clyman writes in his diary:

| | |
| --- | --- |
| January 20, 1846 | "It rained the whole of last night and still continues to rain with a thick dense fog. Had the pleasure of an evenings conversation with Mr [Isaac A.] Flint from Wisconsin. Feel a great desire to see Millwaukie this morning--" |
And Clyman writes a letter to Fremont, hand carried by Isaac A. Flint, (We think because somebody wants a ride home. This being probably Clyman and Flint and others, who want the protection of Fremont et. al. back over the mountains.) Fremont replys to Clyman in a letter expressing regrets, dated with some confusion. (see "The expeditions of John Charles Fremont," V2, edited by Mary Lee Spence and Donald Jackson, 1973, pg 131-132. for explanations of [bracket notes])
The Isaac heads north at some time, and there we find some things (see below) and this is maybe where they lived, but it could also be one of his sons, no picture date, but I want the clock on the table, and somebody likes hearts!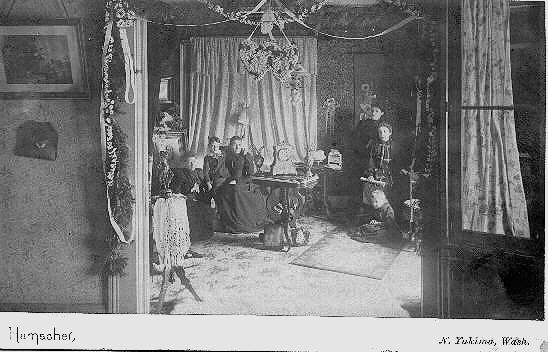 This being a picture found in the archives of Sarah's old house in Sonoma, Ca.
---

To James Clyman;, Esq.
at Yount's Mills, California
Dear Sir:

Your Favor of the 21st ultimo has been received through the kindness of Mr. Flint, some time since, but as the subject matter is one of the gravest importance I have taken time to consider before venturing upon a definite reply. I am placed in a peculiar position. Having carried out to the best of my ability, my instructions to explore the far west, I see myself on the eve of my departure home, confronted by the most perplexing complicaitons. I have received information to the effect that a declaration of war between our Government and Mexico is probable, but so far this news has not been confirmed. The California authorities object to my presence here and threaten to overwhelm me. If peace is preserved I have no right or business here; if war ensues I shall be out numbered ten to one and be compelled to make good my retreat pressed by a pursuing enemy;. It seems that the only way open to me is to make my way back eastward, and as a military man you must perceive at once that an increase of my command would only encumber and not assist my retreat through a region where wild game is the only thing procurable in the way of food. Under these circumstances I must make my way back alone and gratefully decline your offer of a company of hardy warriors. And remain yours Respectfully,

John C. Fremont

Camp on Feather River [?]
December 19th 1845 [!]
[April? 1846]
---

"Golden Gate to Columbia River on the bark Keoka: Isaac A. Flint's Journal"
Oregon Historical Quarterly, V63, 1962, pg 41-54, Ted Van Arsdol, Ed.

Isaac A. Flint was a Pacific Northwest pioneer and minister who ventured and survived some of nature's most difficult frontier physical trials. Born in Chenango County, New York, about 1816, he traveled to Michigan and on to Chicago by the time he was twenty, and left Wisconsin claim for Missouri and a lumber business by 1844.(1) The next year he crossed the Plains to Sutter's Fort in California, wintered in Sonoma County and moved on to Oregon in the spring of 1846. Still not satiated with adventure, he left the willametter valley in 1847 to explore the Puget sound area, where his small canoe party was rescued from "destruction in the breakers" by friendly Indians. Apparently the sound had less attraction than the valley, for he returned to Oregon and settled on a claim in Polk County until gold was discovered in California.

Flints adventrues on the Keoka, described in his journal, presumably took place when he was returning from the mines. the years 1850-51 he spent o his claim, where in the fall of 1851, as he notes he was building a brick chimnet for his house. The next year he went East by the isthmus route, visiting relatives in Wisconsin. there in 1853 he married his second wife, Emeline L. Phinney, and they crossed the Plains to Oregon, settling on his donation claim in Douglas county.(2)

Douglas County was home until 1865, when the Flints moved to Salem for four years. the final move was to the Yakima valley in 1869, with the tide of Willamette Valley cattlemen settling in the bunchgrass lands east of the Cascades. Purdy Flint, Isaac's son, was a prominent cattleman of open range lands in the Yakima
Valley, and A. L. Flint, another son, had cattle on the range from 1870 to the rugged winter of 1880-81.(3)

In Yakima, Isaac Flint was active as a Christian minister, preaching and helping to build the first Christian Church, "having wielded the hammer and saw in its construction and cut most of the shingles..."(4) He died March 28, 1892.

Isaac A. Flint wrote his diary-memoranda-letter to his sister Mehitable's (called Hetty) husband, Benjamin Bishop. Most was written on board the bark Keoka,(5) en route from San Francisco to the Columbia, November 27, 1849- January 5, 1850. The original four by six-inch leather-bound notebook(6) is addressed on the front,

Nessositer Mill, Oregon
November 10, 1851 Paid 18 cents
Benjamin Bishop
Vernon
Waukeesha Co.
Wisconsin


(1) Biographical information is derived from Julian Hawthorne, ed., History of Washington (2 vols., New York, 1893), I:573-574; and obituary in the Yakima Herald, March 31, 1892; an interview with Mr. and Mrs. Asa Flint, published in the Yakima Republic, May 18, 1935; the Oregon Historical society's pioneer card file and index to the Provisional and Territorial Papers of Oregon.

(2) The Oregon Archives, Index tooregon Donation Land Claim files in the National Archives (mimeo, transcribed by Genealogical forum of Portland), lists Isaac A. Flint, Roseburg Certificate No. 238, 320.66 acres in Township 30 South, Range 6 West, Sections 23,24.

The Flints arrival in 1853 is reported in the Salem Oregon Statesman, September 27: "Mr. I. A. Flint, formerly of Polk county , in this Territory with a small company of emigrants which came the southern route, arrived in the Umpqua Valley on the 13th inst. Mr. F. and party brought through ten wagons and a considerable quantity of stock..."

(3) Biographical sketches of two sons, P.J. Flint and Eugene V. Flint, are in Hawthorne, History of Washington, I:574-75

(4) Yakima Herald, March 31, 1892

(5) On the Keoka see E.W. Wright, Lewis Dryden's Maritime History of the Pacific Northwest (Portland, 1895), 26

(6) The journal printed here, as well as the cover inscription, etc., is from typed material in the possession of Mrs. alda Tippie of Yakima, Washington. Apparently it was typed by somemember of the family from the original diary, the location of which is unknown to me.

Isaac A. Flint's
Journal of Memoranda
San Francisco
Nov 27, 1849

Home Sweet Home—Dedicated to Benjamin B. Bishop
There is nothing in this book worth writing or reading

Harbor of San Francisco
November 27, 1849

On Board Bark "Keoka!" getting ready for sea. Passengers have been coming aboard all day. All the berths in the cabin are taken. Now I will study the character of some of them. Here are some frenchmen one of them has a very sour contenance more gloomy than any storm I wish to meet on the way to the columbia. I'll notice that young man with the small narrow forehead keek nblakc eyes and slightly roman nose.

There is one man who has fallen under the suspicion of dishonesty. His countenance is rather fallen. The conversation is on potatoes. The weather is cloudy. Wiknd No. W. expect to sail on Thursday.

28th Ship receiving ballast andwater. Wind high this morning. Some harbor sick passenbers. Cleared up this evening. Conversation in the cabin neither moral mental or religious. A feeling uneasiness in the passengers on acc. of delay in sailing. 2 0'clock PM got under way with a light breeze, at sundown 10 miles off shore. Five sail in sight (@We exoect to make Columbia in 10 days. The Capt. Says the ship is provisioned for a moth. She has 13 casks of water.)

Sat Dec 1st
Land in sight this morning wind ahead, one sail a Bark in sight to the south standing in. The passengers amuse themselves by cathcing birds which follow the hship and bite a hook. 3 p.m. Wind rising with signs ofa storm. I am seasick toady. The crew consists of a Capt. 1st and 2nd mates, steward cook and seamen. Passengers in cabin 23, Deck 25 house forward 2 women and 3 children.

Dec 2nd
A furious N. Wester all day. Spray flying all over us. Some are playing cards many are sick. No religion on this ship. The most of the passengers are from the state of Missouri. The Capt, is a grren un.

Dec 10th
Monday up to this time a rough sea and abundance of discomfort made but litte headway. Wind North. We are running N.E. We may see the Columbia in 10 days No prospect sooner.

Sun, Dec 23rd.
Still at sea. Since the 1oth there has been a constant succession of furious gales and contrary windfs. We have been once nearly in the mouth of the columbia and with deep regret again stood out to sea. We are enveloped in a thick fog provisions are scarce and water scarcer still. Three of four are sick. Wind ahead. No hope of getting in without abetter wind. The vesses rolls so I can scarcely write. The first mate is some of a gentleman and navigator. He is verry sick. The Capt. Has missed his longittude 60 miles (Our greatest diastance from land was 970 miles. We have been under close reeged main top sail forty hours at a time. We sprung our fore mast and fished it with a spar.)

Thurs 28th
We are about 12 miles to the west by north of the cape which has been the scene of much disappointment to us. The sea is verry calm scarcely a puff of wind. We have just buried a man (Riley Miller, age 23) in the sea. Three are sick on board. Water nearly gone. A solemn gloom rests on the countenance of nearly all on board. Some appear to care for nothing. 3 miles astern is a brig with all sail set and nearing us verry slowly. Ten miles on our windward quarter is another sail so we have companyh. I think the old adage (misery loves company) is true. We cannot stand it much longer without distress. Our rations are one spoonfull of wormy mouldy beans once in 24 hours ( On the 27th we saw the ship Magnolia nearly on her beams end. Her top masts were all gone mainsail split and she was in 7 miles of lea shore in a dreadful storm. We were 2 miles to the windward of her. sHe was 52 days out and ran back to San Francisco)

Mon 31st
Still at sea. Cape 25 miles on our windward bow. It is u;nder circumstances the most discouraging under which I ever was placed that I write these lines. I have to help the capt. Get the time and reckoning. We are on our last legs Two or three days ofprovisions and water. Water is worth more than all gold. We are in great distress. Wind is against us and without a change of wind we must all perish. The passengers are getting peevish. If I ever get in shore I shall long remember this morning when I receoved my glass of water for a days allowance. If not starvation and thirst will soon put an end to life. Bread is forgotten: in the absence of water. It is impossible for pen or pencil to convery an adequated idea of our feelings at this time.
Every flaw of wind is watched with intense anxiety some 10 or 12 times we have been steering toward the cape with a prospect of getting in and have been as often baffled. God in mercy regard our almost hopeless condition.

Tues Jan 1 1850
This morning our anxious eyesare strained to discover the long wishedd for land yonder it is. The bald peals of saddle mountains loom up in the mist and fog. The sun is showing it's pale cold sickly face totell us we have passed another night of horrid gloom anddarkness. We took a sea over the starboard side last night which went through the gallery carrying the cook's copers down to the lee scuppers. The old negre cook half drunk pitched down the main hatch head foremost.

At about 10 o'clock P.M. ran over a large fir tree which nearly carried away our rudder. Our larboard rigging is very slack. The Bark looks as if she had been neglected a year (Our bals was and We have pumped it nearly all out and the Bark 200 tons burthen and 3 masts is now so top heavy that the end of the foresmain yards is frequently under water) The sailors handfs aare very sore from the cold. Our fire wood was all gone long ago. One of the passengers whipped the captain last night and they intend to make him run thevessel on the beach tomorrow morning at hight tide or throw him overboard. He came to me and said you are the only frient I have on board you have stuck by me to the last what chall I do. I advised him to run into the little bay south of cape lookout and try to land the passengers there to which he agreed and I went below to pacify the passengers and crew telling them they would be guilty of mutiny.

Wed Jan 2, 1850
We are ten miles to windward of Cape lookout. We are willing to land at any place. The jolly boat and the canoe have started for shore. They are out of sight. One o'clock P.M. The jolly has come back. The two passengers have reached the land in the canoe 20 miles south of Columbia. We envy them their good fortune. They have plenty of the greatest beverage this world can aford (good water.)

4 PM


4 P.M. We have launched the long boat and are off for the shore. The passengers are half crazy every one telling what and how to do. The boat leaks faster than a man can throw it out with a bucket so we must hoist her abord and caulk her. got her up and stopped the leaks. I caulked her myself. Dark heavy squalls are coining. Nothing to eat and nothing to cook it with.

Mid-night got a sea over the starboard quarter nearly carrying away the man at the wheel staving in the companion Door and washing me out of my berth. I feel like a drowned rat and no chance to dry.

Thurs. 3rd Wind still against us. We hope to reach the shore to-day. The wind has lulled and we are standing in under all sail. At 3 o'clock P.M. came to anchor 4 miles off the shore. Preparations are making to try it again in the long boat.** At length we shove on; We intend to affect a landing at the mouth of the Neocoxa if possible. The men at the oars are practicing steady strokes well knowing that the utmost steadiness and skill will be requisite in a few minutes. A mountain sea is running and along the whole line of breakers from south to north not a single opening presents Itself. We might as well jump the falls of the Niagara as to cross the outside breakers 30 ft. high and a whole generation of Genesee's and Niagara's would sound like Gentle murmurs compared to its thunder. We can count nine successive lines of breakers between us and the beach. Our boat rudder is unshipped. One rowlock is gone and with heavy hearts and with parched throats we return to the ship.

Fri. 4th Cape in sight this morning (to windward as usual). But what is that small white speck on our weather bow. A small fore-and-aft schooner. Up goes our colours union down. We are in distress and this is our signal. A spark of hope is kindling in our bosom. The schooner sees us and answered by sending her flag up to her peak and is bearing down upon us in gallant style. Two hours more and she will be along side. Here she is. We hope she can supply us with water.

But no. Eighty gallons is all she can give and that is nailed up y common consent and kept for a time of greater need. We will make a distilling tomorrow to make fresh water if we have no better prospect of getting in the Columbia river (Our Christmas and New Years dinner was some but not much no how you can fix it. We tried fishing but couldn't get a bit not hardly a nibble.)

But she is a pilot boat. Our hopes now are that she will take us off. The Pilot Capt. White (Cornelius White, master of the columbia River pilot boat, the Mary Taylor, and licensed bar pilot) is aboard of us, animating the passengers and crew by his presence. He is crowding on the canvass with a vengeance.

Sat. 5th The pilot boat is out of sight this morning. We are 25 miles off the Cape. Ten o'clock. Sail & where away. Ten miles on our weather bow. Here she comes and plays around us like a pilot fish about a crippled shark.

If our Bark cannot get in the river she will take us before we starve to death. Wind is rising. Now for the bar.
Keoka do your best. Three o'clock PM. the pilot Capt. White is walking the quarter deck with the air of one master of his business.

We are within one mile of the bar. Bout Ship away we go all braced up sharp. Knocked off as usual Ready about says the pilot. Another trial for the channel. Tack ship away we go again. We try it once more. The wind hauls one point in our favour. This is a slight change of wind but it is precious to us. Now she blows. We almost fly.

Hurrah, we are over the dreaded bar at last. Square the yards. Down goes the anchor in Bakers Bay. The pump is put in the cask and all are allowed to drink of the only remaining small cask of Water and that was received from the Pilot boat. There comes a whale boat with provisions and water (The two men who landed in the canoe came with the whale boat to bring us water and would have crossed the bar that night if we had not got in the river) A most timely relief. I am devouring a pound or two of raw pork. I can't wait for it to be cooked

Another night of horrid tempest closes upon us but we are safe at anchor under the lea of Cape Disappointment. Four men from the Brig Forrest were lost yesterday on the beach and three from another vessel.

Sun. 6th
Ship at anchor. At 2 o'clock P.M. I left the decks of the Keoka, determined never to set foot on them again and in a whale boat with 6 other men, set sail for Clatsop. The weather was heavy, the bay verry rough and in 10 minutes was struck by a squall which nearly capsized us. We run before it some three miles and finally affected a landing on the north shore.

Mon. 7th
At day break made choice of crossing the bay rough or smooth rather than lay here and starve.

It is not more than 8 miles in a straight line but the way we must go it is 18 or 20 miles, so no time to lose. all aboard and off we go, sunrise, a heavy fog on the bay. We can't see a boats length ahead and we have no compass so we must go by guess.

The open ocean on our right with breakers, on our starboard bow and a sand bar and breakers on our lee. All at once the fog is blown off and we have a full view Scylla, and Charybdis, sort-of-a-place. The only chance is to keep up to chinook point: so we pull for it relieving each other every 10 minutes or so. 12 M. We are abreast of the point. The tide is running out, with a current of 8 miles per hour. A furious storm of hail and rain is coming down the river. we can't land we can't anchor. We are obliged to make the south shore or perish. The men took the oars and I being the weakest took the helm. The wind blew so that we could not carry a rag of sail. We could afford to be blown 4 miles out of our course and still make land. Every man knew that his life depended upon his effort. Not a word was spoken

Baker's bay was as rough as wind could make water. We headed almost straight to the wind and in spite of the utmost exertions it soon became apparent that we should be swept out of the south channel into the breakers. Still we stood on our course in hopes the wind would lull. But on the contrary it seemed to increase. Still we had two chances left. One was to get under the lea of Sandy Island and in case we should miss that to anchor just inside the breakers.

The island seemed to be running up stream with the speed of 2 race horses we had but a few rods left, about a dozen rods to the breakers, between us and a watery grave. The anchor was dropped and though of only 25 lb weight it held on.

Who can picture our condition. thoroughly drenched with rain and spray completely exhausted in our strength, a gale that no craft could make head against for a moment blowing steadily out large trees floating by us so near that we could touch them with an oar, and if one of those trees had parted our cable nothing could save us and darkness shutting in.

The parting of that little rope will sound our death knell. We knew we could not hold out till morning. The tide would turn in about an hour and be in our favour. The wind begins to lull and then come in puffs. It hauls round a little: we up anchor and set the mainsail. The boat leaps from one sea to another like a frightened horse, one man wants to jump overboard with fear. we put on the main jib which makes it easier to steer. I never saw such rough water. We have gained half a mile when snap goes our sprit: and we are glad of it: for it would have run us under bow foremost. I locked my feet in the baggage to keep from being washed off the stern sheets. I was allmost blinded by the water that flew in my face and in sheets over the boar. Four mile up the bay lay a ship at anchor, and we must reach her. The men urged me to keep the boat more off the wind as we took such hard slaps at every plunge. It blolws like a hurricane.

Our starboard stays; parts; the mast breaks at the thwart; and mainsail and jib goes by the board. But we are within 100 yards of the ship (Eliza
) and under her lea. I left the helm (the handle being unscrewed from the rudder) to take care of itself, and double banked an oar, and in 15 minutes raised eleven blisters on my hands. We got under her stern: they threw us a line and helped us aboard. She was dragging her anchor and surging heavily.

Capt. Nighton ordered supper for us dry clothes and dry berths. We ate, we drank, we slept till sunrise on Tuesday the 8th day of January, when we left his hospitable cabin in good cheer and with a fair wind came up to the little town of Lexington in good style having seen the Elephant as above described.

I will fill this book up with some thing of several sort. I have no idea of sending you blank paper!!'. Things I have seen!!! I have seen a grizzly bear within ten steps and coming at me and then seeing him running the other way, and carrying off 1/2 ounce of my lead to remember me by. I have killed a bird measuring from the end of one wing to the end of die other 9 ft. 4 inches (The condor) I have seen a pine tree in the mountains of such size that if it had been sawn into lumber and sold at a certain time in California would have brought $15,000. 1 have seen the sun every day in six months, I have seen men shot, and drowned, and hung. I have seen a shark, a Porpoise, a star fish, a sea lion and a whale. I have seen some of the inhabitants of almost all civilized nations and to cap the climax of all curiosities, natural or unnatural, I have seen!!! A Bloomer!!! I have traveled in regular journeys since I last saw you at least 9,400 miles. I have seen more lightning and heard more thunder in Wis. in one day and night than I have seen or heard since I left there. I have lived 7 months at a time without seeing a cat I have never owned a dog in Oregon. I have lived 9; months without lasting milk or eggs. I have at one time weighed on the scales only 125 lbs. I have rode on horse back 112 miles in one day. I have seen oats grow 8 ft. high (A good crop. I hav never caught a fish in Oregon. I believe there is no distillery in this territory. 12 heads of cabbage have been raised from one root in 3 years. Oats sown in the fall make a good crop and wheat may be sown any month in the year and produce. I have eaten green string beans on the 27th of Oct. strawberries are now in bloom Oct 27, 1851. Potatoes plantedd in the spring produce two crops before digging.

There is a spruce tree in Oregon 26 ft. in diameter. There is 3 steamers on the Willamette (pronounced Wal-am-ette) accent on the second syllable) above the falls. I have seen natural wild oats, flax, timothy, and clover, and seen pine tree sugar. I have seen 244 guests at one wedding. I have seen Gen'l Joe Lane, and heard of Jenny Lind, and Kossuth, and the Telegraph, and various other articles too numerous to mention.

0, I forgot to say that I have a lump of beeswax which lay in the ocean 50 years and is as good as new. It came from China in a Chinese junk and went to the bottom along with the crew who brought it. I have never taken more than 4 doses of medicine in this valley. (The Clackamus, Molalla, Pudding, Santiam, Calapooiat, Muddy Willamette, Lum-tum-buff'la Mary's, Lackamute, Rickreall, Yamhill and Tualitin rivers rise and empty into the valley) The disease called asthma is unknown here. I am building myself a brick chimney. Just about now the Govm t. surveyor has stuck a mile stake on the township line in my field. The county will not be sectionalized until next summer. (The Solar Compass is used in surveying here. The Aurora borealis is seldom see,. The south wind always brings rain.)

I am divorced (Oct. 24, 1851) by a decree of the court from the bonds of matrimony. I am a subscriber to the Weekly Union a Washington Paper.

I am a Democrat of course. The Emigrants are all in from the mountains: the marriageable girls included.

There has been no rain of any amount this fall yet, Oct. 27th '85'. I left N. R. Smith and Kellogg at Shasta mines. I supposed they would be home by this time, but I got a letter from Nelson without date (written about the 23rd of Sept.) in which he does not say when he would start for home. The half section of land as provided in the bill is marrying off all the girls down to 12 years of age. It is a perfect scandal. People are wsettling in the Rogue River valley already. Eggs are worth 50 cts per dox. Here at this time

There are 3 newspapers published in this Territory, and one plank road under contract. The canion of the Umpqua mountain is 2 1/2 miles east of south of my house. (I broke one wheel of my wagon in the Umpqua canion and lay there 2 nights. The canion is verry narrow in manyplaces 2 wagons cannot pass. The mountains are 6 or 8 thousand feet high on each side and verry steep. It is 12 miles through and the worst road of the same length in the world) I received a letter from Hetty and Asa (brother and sister] dated July 27, 1851. Hetty says you would like to shake my paw, whew, why? Brother Benj. (husband of Hetty) do you think I am a bear or a catamount and have a paw claws and all! No, sir: I have a thing to the end of my arm some folks call a hand which if it ever done any mischief worse than carry a little!!! sugar! to my jaws is more than I'll admit! and it might puzzle you to prove even that As you have got your corn house done and wish to rest, you may set down and read such a bungled up composition as I never wrote before. All that is in large hand, and black ink with date of days of the month was written at sea: the other on shore.

I strictly forbid you to let Hetty read this. for she won't believe half of it and then she will tell Mother the whole yard about the sea and the ship, and the breakers and the whale boat; and no water, nor bread or butter and all them things and then Mother will cry of course and think I have nothing to eat or drink yet.

I don't make any calculations of coming home untill I get my land. As for living in Oregon I prefer to settle in this country for life. I had rather live here than in any other country I ever saw. The certainty of good health, if I may judge by the past, and the ease of obtaining a livelihood are of great moment and induce me to fix upon Oregon as my permanent home.

(N.W. wind brings clear weather. Daylight may be seen at 9 p.m. and 3 A.M. in the longest day and shortest nights. The roads are good in summer and muddy in winter. Pine, fir, spruce, alder, maple, balm of gilead, hemlock, cedar, oak, chinkpin, elder, yew, laurel, and a speies of chestnut timber grow here. Lackamish and wappatoes (a kind of wild potatoes) grow in the soft ground. Pidgeons, Patrridges, Pheasants, grouse, geese, gray and white, ducks, andhill cranes, robins, hawks, owls, bats, and blue birds, racoons, wild cats, wolves, bears, panthers, and pole cats arouhd here, rattlesnakes, fleas, mosquites, grasshoppers and bed bugs.)

(A murder was committed in Portland a few days since by the lover of a girl. He stabbed a young man who kept her company. He is now in jail and will be hung unless he should escape.

(Ladies faships: Material: The best in market, tight bodies and sleeves, board skirts, long waist, pleted or plain bosoms, tight and small collars, Leghorn bonnets, few trimmings, dark gloves, gold finger rings, and breast pins: Method of trvelling : on horseback.

(Oct 27, 1851 I have this evening heard that gold has beeen discovered on Queen Charlotte Island a vessel is fitting out at Portland with a party of miners on board. She will sail in a few days.)

Nothing that could transpire would afford me greater pleasure than to visit you. all but duty does not call two ways at once and I do not see how I can leave here untill I get my land title secured and then, which I hope will be next summer, I will see you all in just as short a time as I can get there which would not be long. I shall write home as often as anything transpires worthy of notice. I hope you will write to me. Tell Asa to send me a Milwaukee paper occasionally

I would like to see Alzina with a whole ship's cargo of love regard and esteem I remain yours etc.

B.Bishop
M.P.A.B
Isaac A. Flint

"In all life's lessons learn
That true men through their trials persevere
Winter but comes with all it's storms severe
To hasten spring's return."

Apples, Peaches, Pears, strawberries, raspberries, salmon berries, sallal and service berries, goose berries, cranberries and whortle berries, cucumbers, melons, radishes, beets, carrots, corn, pumpkin and squash, onions and tomatoes, rye and barley, and babies all grow well here.

Lumber and brick is $20.00 per M. Nails per lb. at retail 15 cts. Hogs 6 cents gross weight Butter 50 cts. per lb. Shingles $10.00 per M. Shoes $3 and Boots $7 per pair Hats $3 to $5; common labor $2 per day Saddles with good wood stirrups $16. Fanning mills $100 each

If you want to know any more about things out this way just come and see for yourself.

"Philosophy may lift its head
And find out many a flaw
But give me that philosophy
That's happy with a straw!"

Oregon Territory
1851

---

From HISTORY OF WASHINGTON

Flint, Isaac A., deceased, a pioneer farmer near Yakima City, born in Chenange County, N.Y. was the youngest son in a family of three born to John and Rachel (Purdy) Flint. He commenced his life's labors at eighteen as a farmer. IN 1844 he entered the ministry and preached until 1889. After leaving his home in the State of New York, he traveled to Michigan, much of the way on foot, remained there a short time, then in 1836 went to Chicago, and from thence by team to Wisconsin, where he took up a claim. In 1844 he migrated to Missouri and engaged in the lumber business. In 1845 he crossed the pains with ox teams, being obliged to exercise great vigilance to prevent the Indians from killing the cattle. Arriving safely at Sutter's Fort, on the Sacramento River, California, being the first to cross the Sierra Nevada with wagons, they wintered in Sonoma, County, CA, then visited Oregon in the spring of 1846, where Mr. Flint remained until 1847 in the Willamette Valley. He then left his farm and journeyed with a party up the Cowlitz to Puget sound, and by canoes to Whidby Island, suffering great privation, and narrowly escaping destruction in the breakers. Saved by friendly Indians, they were cared for by the savages until sufficiently recovered to resume their march. Before arriving in Whidby they were reduced to such a state of starvation that one eagle was all the six white men and three Indians had to subsist on for three days. From Whidby Mr. Flint, whose name and endurance seem to have been synonymous, made his difficult way through twelve miles of timber, finally reaching the English Fort Nesqually. The other men came around with the canoe. Continuing their explorations after recruiting their strength, they passed with canoes down to the Columbia river, meeting with many adventures and not a few dangers. After taking up a claim near Salem, Ore., Mr. Flint attracted by the gold excitement, went to the mines and remained three years. His first wife died in California in 1846. In 1852 he returned to Wisconsin, and married Miss Emeline L. Phinney in 1853. He recrossed the plains by ox-tem the same year, reached rogue river, Oregon, settled in Douglas County, Ore., moved to Salem in 1865, thence to Yakima City in 1869, where he resided with his family until 1891, the time of his death. A widow and six children survive and lament his loss. Few men had a wider, more dangerous and varied experience of frontier life than the late Mr. Flint.

---

Fort Nisqually (S.22;T.19N;R.1E) - Two forts by this name were built by Hudson's Bay Company on different sites two miles apart. They were near the present town of DuPont in northwest Pierce County. The first, built in 1833, was on Nisqually Reach near the water's edge, directly south of Sequalitchew Creek, and was usually referred to as Fort Nesqually. The fur trading post was moved northeast about two miles in 1843 and was referred to as Nisqually House by Puget's Sound Agricultural Company, a Hudson's Bay Company subsidiary which operated it as a trading post, agricultural center and fort. The name source is the same as that of Nisqually River.

---

Whidbey Island (Ts.28-34N;Rs.1W-4E) - A 235-square-mile island, with Deception Pass to the north; Skagit Bay, Saratoga Passage and Possession Sound to the east; Possession Sound and Admiralty Inlet to the south; Admiralty Inlet and Strait of Juan de Fuca to the west is in Island County. It is the second largest island in the lower 48 states. It was named on June 24, 1792 by Capt. George Vancouver, for Joseph Whidbey, master of the ship Discovery, who proved it to be an island by exploring through Deception Pass. The island has had many names, including Whidby, Whidby's, Whitbey, Whitbey's, and the Indian name Tscha-kole-chy.

---