COLIN McDONALD
"Meet the National-Savings Man" World Sports, March 1959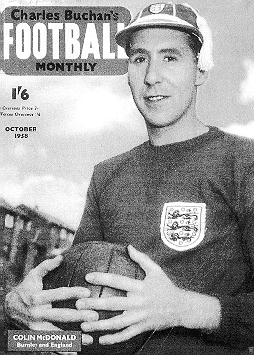 By the standards of the publicity age there is little colour about Colin McDonald, keeper of the England goal. No story dripping wIth human drama lies behind his rise to fame - unless you wish to embellish the fact of a footballing father dying before his son became famous at the same sport. He is not renowned for controversial or rebellious statements. On the field he is not a showman. Off it, he has no vast business tie-ups and his interests and ambitions extend little further than loving his family and keeping chickens.....though in a sizable way, of course.
As a journalist, I found this regrettable at first. On reflection I find it refreshing. How pleasant in this era of gimmicks and commercialisation to find an ordinary, humdrum character at the top of his profession! The impression I gained from McDonald as we chatted within the precincts of Burnley's Turf Moor ground was that of a quiet, contented man, devoted to his football (which he took up after an early excursion into plumbing) and his family (which now comprises his wife, whom he met while playing for Headington, Oxfordshire, during national service with the R.A.F., and three daughters ranging from four to seven years old). His temperament I gauged to be that of an intelligent tradesman rather than that of a celebrity.
How refreshing, too, to meet a top-class footballer without a chip on his shoulder about club or cash! "Soccer slaves!" Colin smiled as he repeated the slogan coined by some campaigners for a better deal for footballers. "Soccer slaves! People who say that forget a lot of things. I've no regrets at becoming a professional footballer. I've had some wonderful experiences...a grand life."
McDonald, of course, is an upper-crust soccer man - an international player whose skill has taken him in a short space of time to Moscow and Madagascar, Belgrade and Boras (Sweden). Many others - and, in fairness, I believe Colin appreciates the fact - have a harder, humbler row to hoe in football. For 11 years McDonald has been a one-club man. Perhaps in that time he has imbibed some of the tradition emphasised by the plaque at the end of the dressing-room corridor which recalls the feat of the great Burnley team of 1920-21 in winning the League championship and playing 30 consecutive matches without defeat. It concludes:
This tablet is here placed to perpetuate the memory of this wonderful record to the everlasting honour of the players who took part in the games and as an incentive to all the players of the club to maintain and, if possible, surpass the results before set forth.
Evidence suggests that McDonald's goalkeeping brilliance is natural - the product of heredity rather than coaching. Colin's father, Tom, played in goal for Motherwell, Portsmouth and Bury. Both parents were Scots, and Colin qualifies for England through being born in the village of Summerseat, a few miles from Bury in moorland Lancashire. They were a sizable family, the McDonalds, with five sport-loving sons and one daughter. By the end of the war, however, one of the boys, Tommy, had been killed at Alamein and the father had died before he could pass on tips from his goalkeeping experience to young Colin.
Indeed the boy McDonald did not reveal early signs of becoming a goalkeeper. The lad who saw little first-class football but worshipped inside-forward Jimmy Hagan from afar had early inclinations as an outside-left and played in that position for Hawkshaw St.Mary's in the Bury Sunday-School league. Not until after his father's death, and because Hawkshaw were short of a 'goalie' one day, did he step between the posts.
This was the significant move, the deciding point of a career. Former player Johnny Marshall, who lived locally, saw the lanky teenager playing for Hawkshaw, noted his obvious talent and took him along to Burnley. After three trials Colin signed as an amateur: another two months and he became a part-time professional. At Turf Moor, natural ability received experience and polish. Marshall, now manager of Third Division Rochdale, remains an ardent admirer of McDonald as man and player. In Lancashire tones he recalls a time when Colin's progress at Burnley seemed to have stopped and when he, as trainer of Bury, tried to get him for his own club: also, that the young player could have gone to Bristol Rovers, but didn't.
In retrospect, McDonald must be pleased he stuck to Burnley and that Burnley stuck to him. In April, 1954, he was chosen on merit for his first League appearance, let in five goals against Aston Villa, but was retained as a first-team man. He kept his place until the season's end, joined the club tour to Madagascar and Mauritius, and since then, barring an 11 week absence through an ankle injury two years ago, has been virtually a regular.
His first representative honour came when he deputised for Eddie Hopkinson (Bolton) for the English League against the Scottish League in Newcastle last April. Having done so, the stage was almost set for his first full international appearance. For the matches against Scotland, Portugal and Yugoslavia the selectors remained faithful to the shorter, agile Hopkinson. But five goals scored by the Yugoslavs in Belgrade helped bring the dropping of the Bolton man and the substitution of McDonald for the next tour match against Russia. Thus McDonald won his first full cap in the frightening atmosphere of Moscow's Lenin Stadium before nearly 104,000 people. He came through the ordeal well and was retained for England's World Cup games in Sweden the following month.
Like all other team-members Colin made errors in these Cup matches, but generally emerged with an enhanced reputation. As he helped keep the brilliant Brazillians at bay in a 0-0 draw and achieved a wonderful punch over the bar against Austria, people began referring to him as a 'great' goalkeeper. The Burnley man kept his place for this winter's early-season internationals against Russia, Northern Ireland and Wales. Now he has eight full caps and a record of 11 goals conceded - including at least two hotly disputed ones.
In that first appearance in Moscow Ivanov appeared to handle the ball before scoring. Against the Irish in Belfast, Colin caught a high centre from McParland but had it knocked from his hands into the net by the onrushing Casey: "...a crude and shoddy goal," said The Sunday Times. Away from the international arena, McDonald maintains his reputation for Burnley, where the league team, a blend of youth and experience, nestle half-way up the First Division table at the time of writing. David Smith, the Scots-born back who appears on our cover with McDonald, is named by the goalkeeper as one of the club's most improved defenders. Manager Harry Potts, active, enthusiastic and track-suited, speaks admiringly of McDonald that his character reflects in his play - sound, quiet and unostentatious.
The World Cup experiences remain vivid in McDonald's mind. "They made me more convinced than ever that there could be a future for summer football in Britain," he says. "Over here it's often biting cold or raining - miserable for players and spectators. In sweden with the sun shining and the crowd in shirt-sleeves, well, it made you feel good just to be playing under those conditions." In normal summers McDonald plays a spot of cricket: a useful No. 4 bat for village side Tottington St.John's, playing in a Sunday-School league.
He is full of praise for the Brazilians. He ranks inside forward Didi the greatest player he has seen; names goalkeeper Gilmar with Northern Ireland's Harry Gregg among the top goalkeepers of our time. The hardest shooting forwards he knows are Bobby Charlton and Ronnie Allen, both of England. Lessons of England's Cup exit? "I think we probably need more ball-work, more team drill. Some of these foreign teams are really teams."
McDonald strikes the neutral observer as a sensibly conscientious professional goalkeeper. When he lets in a goal he confesses to holding post-mortems with himself. "I wouldn't say I brood about goals," he emphasises, "but we, the lads, discuss these things you know - quite frankly, with no hard feelings. And at home, by the fire in the evening, I often think about what happened and what I might have done.
"I don't think standing between the posts and letting players take pot-shots at you is the be-all and end-all of goalkeeping training. A keeper should work, work, work on his weaknesses." By virtue of his recent dispalys, some people have expressed the view that McDonald is England's finest goalkeeper for 20 years. Just how good is he? What are his strengths and weaknesses?
His greatest attribute, perhaps, is his ability to take high balls - a task made easier by his 6 ft.1 in (1.85m) frame. Correspondingly, he occasionally appears imperfect at saving the low stuff. A study of reports suggests that most of the five goals he let in during the World Cup games were low shots - and it has even been rumoured that his comparative inefficiency in this direction was played on by the Russians following a study of his play in training by coach Mikhaliy Yakushin! The Burnley man has also been criticised for making hazardous short kicks and throws to team mates.
But the goalkeeper is, at once, the easiest and hardest player to criticise: his errors always appear more blatant and criminal than those of other players. To say that McDonald is England's best-ever goalkeeper would be an exaggeration, though his erstwhile mentor, Johnny Marshall, goes on record as saying that he is very little below great 'semi-moderns' like Harry Hibbs and Frank Swift. His future potential is hard to gauge, for he is now 27.
Despite all this, McDonald is serving England well, admirably well: he has made many fine national savings for his country! There is not unanimity in the land that he is our best goalkeeper, but were the England side chosen by national poll I believe he would certainly get in - despite stormy electioneering meetings in places like Bolton, Sheffield, Fulham and Chelsea.
Reproduced by Jez Wilson, August 1998