Fay King and Mildred Wolgast were both strong-willed, independent women who also happened to be married to two former lightweight boxing champions of the world. Something else they had in common was that their husbands thoroughly detested each other.
To Mrs. King's husband, Battling Nelson, Ad Wolgast was a "cheese champion" and "beyond a doubt the cheapest man I ever met." And of Nelson, Ad Wolgast said, "I have no more use for him than church folk have for a rattlesnake at a revival meeting."
Four-handed bridge was therefore out of the question, but as one newspaper explained, "... through the bombardment of expletives the petite members of the two families are the best of friends. Mrs. Nelson opines that Mrs. Wolgast is a 'peacherino,' while Mrs. Wolgast confidently affirms that 'Fay is awfully sweet.'" And on September 13, 1913, the chums got together in Portland, California, to announce agreement on another matter: "Our husbands no more shall fight as long as we both shall live."
It was a stunning feminist manifesto in an era when there was no female sufferage and barely female sufferance. But given the nature of the time and of the husbands in question, what happened next was no big surprise.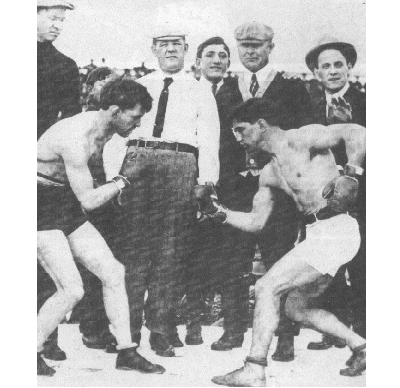 Defending lightweight champion Nelson (left) and challenger Wolgast square off before their historic title bout in Richmond, California, on February 22, 1910. It was Nelson's fifth championship defense.

"I have just wired Battling Nelson," announced Ad Wolgast on September 14, "that I will be glad to fight him in Milwaukee on October 28."
If Fay and Mildred put their feet down or felt a sudden chill of mortality, it was lost in the clamor of anticipation from boxing fans around the country, to whom the prospect of another war between Battling Nelson, "The Durable Dane," and Ad Wolgast, "The Michigan Wildcat," was perfectly peacherino.
They had clashed twice before. Nelson was lightweight champion when he and Wolgast fought a bloody 10-round, no-decision fight - in which the newspapers adjudged the underdog Wolgast the winner - on July 13, 1909. That introduction laid the foundation for their mutual hatred and set the stage for a rematch, held on February 22, 1910. I went 40 rounds, and the bitter enemies punched, pushed, fouled, and even bit one another. Finally the referee intervened to save Nelson after he had, in the words of one newspaper account, "recieved a beating such as old-time ring followers maintain never before was seen in the ring." Nelson, who couldn't even see anymore, vehemently protested the stoppage, and eight years afterward was still insisting that he was the reigning lightweight champion because the referee had never actually counted him out in the Wolgast fight.
For a couple of fellows who hated each other so, Battling Nelson and Ad Wolgast were amazingly alike, inside the ropes and otherwise, and thier lives followed an eerily parallel course from start to finish. Both came out of the Midwest. Although born in Copenhagen, Denmark on June 5, 1882, Battling Nelson was raised in Hegewich, Illinois. Ad Wolgast was born on February 8, 1888, in Cadillac, Michigan. Nelson was one of eight children; Wolgast was one of seven. And both got their real starts on the road to boxing fame and fortune in Milwaukee, Wisconsin, which almost a century ago was a major fight center.
Nelson arrived there broke in 1901, and headquartered at Paddy Dorrell's Beanery in the town's bowery district. He trained in the backroom gym, and lived on Paddy's famous beans. His manager was Teddy Murphy, a former Milwaukee fighter.
They had gone west almost three years before Ad Wolgast arrived in Milwaukee in 1907, and like Nelson, trained and ate at Paddy Dorrell's. After establishing himself as a fistic attraction, Wolgast too, headed west under the management of Milwaukeean Frank Mulkern.
If both fighters were certain of anything, it was that absolutely nothing could hurt them. Early in his career, Nelson had actually engaged in a headbutting contest with a man in Hegewich, both having their hands tied behind their backs and ramming craniums like billy goats. After several head-on collisions, Bat's foe retired with a gaping wound on his skull; Nelson himself was unmarked and unfazed.
Wolgast was equally confident and proud of his ability to withstand any kind of blow. Before his title fight with Nelson, he offered to let Wolgast "put a horseshoe in each of his gloves and ... bet him $2,500 that he can't knock me out."
From a purely statistical standpoint, their claims were unassailable. In 132 recorded fights, Battling Nelson failed to go the distance just twice.
Ad Wolgast fought 135 times, and was also stopped just twice, with one of those due to a broken arm.
But by 1913, their face-first style had taken a toll that their wives could only worry about, and when they met in the ring for the third time on October 17 - it had been moved up from the original date - both were far from the fighters and physical specimens they had been. Wolgast had lost the title to Willie Richie on a 16-round foul the year before, and when he lost a newspaper decision to Joe Azevado on September 1, 1913, had seemed to acknowledge the inevitable.
"I would rather quit altogether than spend my time training and boxing around like a sideshow man," he said afterward. But then Fay and Mildred went public with their conclusions about their husbands' futures, and the 5'7½" Nelson and the 5'4¼" Wolgast showed who wore the pants in their families by pounding each other throughout 10 rounds in Milwaukee.
"They may be Ex-Champs And Down And Out, But These Two Warriors Surely Put Up A Grand Battle," headlined the Milwaukee Journal the next day.
Wolgast won the newspaper decision and resumed his career full-force. Nelson, whose ring contests included some of the most brutal fights in boxing history, announced that he was retiring from boxing to enter politics. But within a year he voted to fight again, and said he'd continue as long as his battered hands held up.
"I ain't human," Nelson often boasted, referring to his incredible endurance and ability to absorb punishment. When he launched his comeback, the Milwaukee Journal (whose sports department the Battler would visit before every local fight to an-nounce, "This ain't going to be any pink tea,") reported, "Doctors who examined him said he was of subnormal nervous organism [sic], meaning his nerves were less sensitive than those of the ordinary man, and did not carry shock to the brain in the normal way."
However, the physical effects of Nelson's beatings stood out like neon advertisements of his profession. As early as 1905, before he won the lightweight title and with more than half his ring career ahead of him, the Journal wrote that Nelson "resembles a martyr who has been broken on the wheel."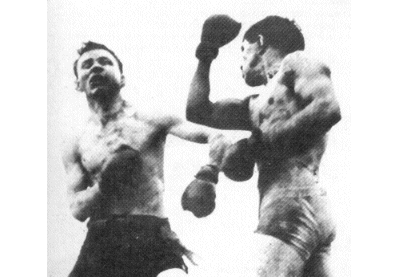 Wolgast jolts Nelson's head back with a vicious uppercut in the 40th round of their 1910 clash. Moments after the photo was taken referee Ed W. Smith stopped the bout to save Nelson from further punishment, and Wolgast was crowned the new lightweight champ.

As for Wolgast, after he broke his right arm in a 1914 fight with Freddy Welsh, a newspaper printed the high points of his medical resume: 1906 - left ear cauliflowered; 1907 - right ear cauliflowered; 1908 - bones in hands cracked; 1910 - broken arm and rib; 1911 - appendicitis; 1912 - bones in both hands broken; 1913 - ribs cracked; 1914 - two broken arms.
In 1916, Nelson decided to try retirement again, but it was too late to mollify Fay King. She announced that she was divorcing the ex-champ. In a poignant effort to regain her good graces, the battered Battler, who'd denigrated former lightweight champion Jimmy Britt as "The Dude" for the latter's concern about protecting his features in the ring, had his spectacularly cauliflowered ears, crushed nose, and mashed lips remodeled by a plastic surgeon. And, according to a news account, he also hired "a social tutor, a mentor of deportment, and a dancing instructor" to give him "lessons in terpsichord, French, and grammar."

While it was later reported that "the doctor has not beautified the Dane to any great extent," the results of his physical overhaul, at least, were startling enough to cause Nelson a problem when he tried to get in to see the Ever Hammer-Joe Welling fight in Racine, Wisconsin, on November 22, 1916. When the boxing inspector failed to recognize the remodeled Nelson and refused to believe that it was the former champion, he was arrested for trying to impersonate himself.
While far from a dude himself, Wolgast himself had tried plastic surgery of sorts a few years earlier, with less spectacular results. According to the January 17, 1913, Journal Ad had had his flattened nose injected with parafin and reshaped. But then occurred a tragedy that probably deserves enshrinement in the annals of dermatology: "The other day a pimple appeared on Ad's nose. It bothered him. He squeezed it. He kept on squeezing it. And when he finally finished, his nose sagged in the middle. All the parafin had leaked out through that pimple."
When then-heavyweight champion Jess Willard drove Ad to St. Mary's Hospital in Milwaukee on February 27, 1917, however, it wasn't for treatment of what boxing had done to his physiognomy. The little Dutchman had tried to quit the ring several times, but was always drawn back by the memories of what had been. "You just can't quit, that's all," he said plaintively after one attempt at retirement in 1916. "They say a criminal is drawn back irresistibly to the scene of his crime. Well, so is a fighter drawn back to the old rings, to the old crowd, and the old excitement. Why not let the ex-champs have their little pipedreams?"
The initial explanation for Wolgast's hospitalization in Milwaukee was that he suffered a "nervous breakdown." But on April 4, 1917, two psychiatrists told a Milwaukee court that the former champion was mentally incompetent and that there was "hardly a chance for [him] to regain his health." Control of his ring earnings, said to amount to about $200,000, was given to Mildred, who was then herself in the process of suing for divorce.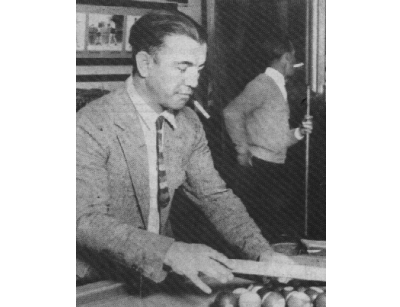 Wolgast, shown working in a Vernon, California pool hall.

Meanwhile Nelson, his improved countenance and social graces having failed to sway Fay from dissolving their marriage, announced that he would return to the ring.
Wolgast, only 30 but physically and mentally decrepit - "A glance at Wolgast's head," wrote a Milwaukee newsman, "is enough to show what he had gone through" - spent more than a year in Milwaukee sanitoriums. The day after his release, on April 18, 1918, he called the Journal to announce that he wanted to fight lightweight champion Benny Leonard in a 20-round bout. Fighting was all he knew. But no state would license him to box, and the Wildcat ended up, for the time being, working on a farm in northern Wisconsin, from where he wrote to a friend in October 1918, begging "for a dime or so."
He wasn't the only one with problems. After finally retiring at the age of 34, Nelson had toured with a circus and then tried, unsuccessfully, to enlist in the U.S. Army as a boxing instruc-tor. It was the height of World War I, and Bat was equally unlucky trying to interest the military in purchasing rights to the "Nelson Dummy," a punching bag he invented that was fashioned in the likeness of the Kaiser. In the fall of 1918, Batt was felled by the influenza epidemic that swept through the country and around the world, killing thousands. He was hos-pitalized in Chicago, and in October, the man who made even more money than Wolgast, and spent it even faster, had to make his own appeal for funds.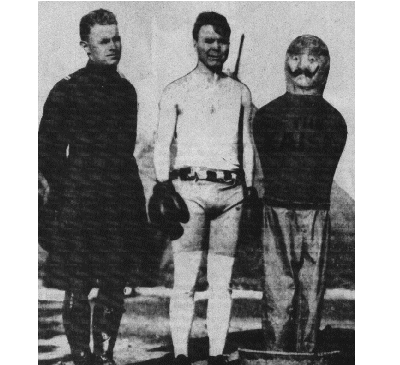 In April 1918, Nelson proudly displays his "Nelson Dummy," designed to look like Germany's despised Kaiser, and to be used as a punching devise for American soldiers during the first World War.

"I am not asking for charity," insisted the Dane. "All I would like is some of the money I loaned out... It may be unbelievable, but the total amount I now have outstanding ... will run close to $250,000." Four days later, newspapers reported that the Battler had been moved from "Millionaires' Row" in St. Luke's Hospital to a ward for the indigent. Nelson wrote about the difference to his one-time manager, Teddy Murphy: "Last night oyster patties for supper; this morning, hash. Just now, old-timer, we had stew that once flirted with a cow."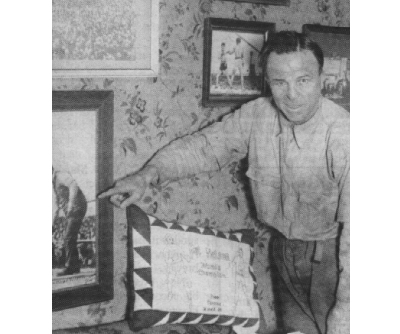 Nelson in his Hegwisch, Illinois, home, points to a photo of his title-fight win over Joe Gans.

It took seven years, but Battling Nelson finally rebounded into solvency in l925, when his father died and left him $150,000, most of which came from ring earnings the Battler had giv-en him. But within 10 years the former champ was dead-broke again, and this time it wouldn't get better. He lived in flea-bag hotels and worked occasionally. In January 1954, a month before his death on February 7, "The Durable Dane" was admitted to the charity ward of Chicago State Hospital. He was, according to a wire service report, "a wasted, incoherent little man without a penny to his name." The diagnosis was "incurable senile dementia." A press account said that the 71-year-old fighting machine spent the last weeks of his life babbling nonsensically about boxing events that had occurred decades before.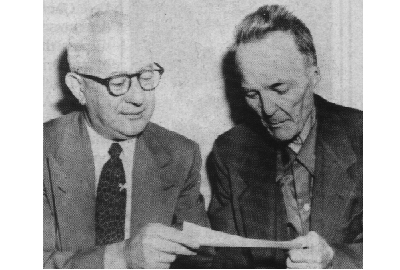 Nelson recieves a charity check on his 71st birthday from the editor of a Chicago newspaper.

The news that he had oulasted his bitterest enemy might have consoled Wolgast if he had been in any condition to comprehend it. After drifting out to California in 1918, and even fighting once or twice more, the Wildcat's benumbed brain ceased forever to function normally. He was committed to a California asylum, and for many years trained there in a makeshift gym to defend the lightweight crown that, in what was left of his own tortured mind, he had never lost. When he died on April 14, 1955, Ad's mind was a total blank, and he had spent more than half of his 67 years in mental institutions.
For Battling Nelson and Ad Wolgast, life inside the ring and out had been a brutal endurance contest, and right to the sad end, the notion that they could ever lose was just an old wives' tale.