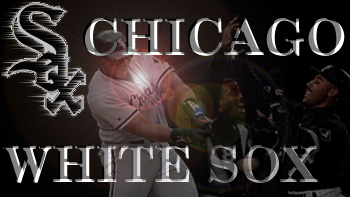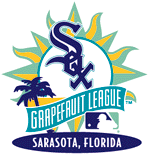 Sox Spring Notes
For Spring game summaries, visit the Scoreboard
2/28- Ft. Meyers, Florida... It's game time!!! Jaime Navarro faces the Twins' Frankie Rodriguez in a 12:05 start time. Other pitchers the Sox expect to play are: Matt Karchner, Mike Sirotka, Jayson Derochur, Jeff Darwin, and Ramser Correa. Olmedo Saenz will undergo season-ending surgery to remove bone spurs from both heels. And the Sox have reached an agreement with Ray Durham on a one-year contract, pending Durham's approval. He is expected to double his salary of the $170,000 he made last year. Lastly, it may be Albert Belle who makes the most on the team, but Frank Thomas graces the cover of the new media guide.
2/27- Sarasota, Florida... The Sox played their first intrasquad game yeaterday. It ended in a 1-1 tie. 5th starter hopeful, Tom Fordham, pitched 2 hitless innings, and Mike Cameron homered and singled. Terry Bevington is leaning toward putting Danny Darwin in the pen as a long reliver. Sox vs Minnesota tomorrow!
2/26- Sarasota, Florida... Sox vs. Twins in Friday's opener and Albert Belle will make the trip. Sox rookie third baseman, Olmedo Saenz, will get an X-ray on his feet sometime today. The problem might be bone spurs. Saenz has been complaining about pain in his heels since last season. There will be a seven-inning intrasquad game this afternoon. Tom Fordham and Chris Clemons will be the starting pitchers.
2/21- Sarasota, Florida... Tony Phillips has given up his number #8 to Albert Belle. Phillips will switch to #1. Robin Ventura has the flu and will report on Sunday.
2/20- Sarasota, Florida... All quiet on the Belle front, although Albert Belle will give his first press conference to the Chicago media today after workouts. The White Sox are taking this "murderer's row" thing seriously. So seriously that Frank Thomas' and Belle's lockers are next to each other, and the two lockers adjacent are empty. Jason Bere still looks on track to return in June along with Roger McDowell. Bere will most likely start out in the bullpen. New pitching acquisiton, Ralph Diaz, 27, could make a run for the 5th starter spot. Diaz was 14-1 with a 2.41 ERA in the Mexican League. Also keep an eye on fire-baller Jayson Derochur. Derochur was obtained through Montreal. If he doesn't make the openeing day roster, he must be returned to the Expos. Other candidates for the spot are Danny Darwin , Mike Bertotti, Mike Sirotka, and Tom Fordham. Tony Castillo will be pitching to Thomas, Belle and Robin Ventura today in batting practice. Reportees on 2/19 included Harold Baines , Darren Lewis, Mike Cameron, and Jimmy Hurst. That's all for now, check back soon for more Sox Spring Notes...
Spring Training Roster
OF Abbott, Jeff 25
P Alvarez, Wilson 40
DH Baines, Harold 3
P Baldwin, James 37
OF Belle, Albert 8
P Bere, Jason 46
P Bertotti, Mike 51
OF Cameron, Mike 24
P Castillo, Carlos 55
P Castillo, Tony 44
P Clemons, Chris 62
P Cruz, Nelson, 57
P Darwin, Danny 36
P Darwin, Jeff 48
P Derochur, Jayson 34
P Diaz, Ralph 30
P Drabek, Doug 15
2B Durham, Ray 5
P Erye, Scott 53
P Fordham, Tom 26
SS Guillen, Ozzie 13
P Hernandez, Roberto 39
OF Hurst, Jimmy 29
P Jones, Stacy 49
P Karchner, Matt 47
C Karkovice, Ron 20
C Kreuter, Chad 12
P Levine, Al 58
OF Lewis, Darren 10
C Machado, Robert 54
2B Martin, Noberto 7
P McDowell, Roger 42
OF Mouton, Lyle 28
OF Munoz, Jose 17
P Navarro, Jaime 38
SS Norton, Greg 14
C Pena, Tony 1
OF Phillips, Tony 8
3B Saenz, Olmedo 47
P Sauveur, Rich 64
P Simas, Bill 41
P Sirotka, Mike 38
3B Snopek, Chris 27
1B Thomas, Frank 35
P Thomas, Larry 50
3B Ventura, Robin 23
P Woods, Brian 60