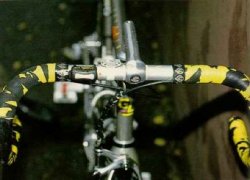 1994 Gan Lemond Team bike with Zap
In it's stock form, the Zap Microprocessor unit has two switches/controller units attached to it. Mavic recommends that when installing the switch that resides on top of the handlebars near the stem, it be mounted with the shift buttons facing the front of the bike, as shown in the image to the left.

Personally, I have found that if the shifter is turned 180 degrees so as to face the rider, it becomes much easier to operate the shifter, using the thumb on your right hand to effect the gear change. In this position, the left button will shift up the cluster (towards the bigger cogs), and the right button down the cluster (towards the smaller cogs).