Alyssa Beckerman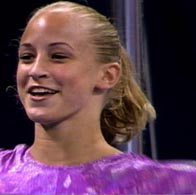 Visit Alyssa's Official Page!
Hometown: Middletown, N.J.
Residence: Wyoming, Ohio
Date/Place of Birth: January 23, 1981/Long Branch, N.J.
Club: Cincinnati Gymnastics Academy
Coach: Mary Lee Tracy
School: Wyoming High School
Year in School: 12th (Fall '98)
Began Gymnastics: 1986
Years on National Team: 2 (1997-98, 1998-99)
Favorite Event: Uneven bars
Hobbies: Rollerblading, music, talking and shopping


Formerly of Middletown, N.J., Alyssa now lives in Wyoming, Ohio. She is the middle of three children born to Howard (inventor) and Melanie
Beckerman. Her older brother, Mat (21), has his own record company, while younger brother Jared (16) designs web pages and is on the high
school science and cross country teams. In her spare time, Alyssa enjoys rollerblading, shopping, surfing the Internet and listening to music. A top student with a 3.75 GPA, her favorite subject is science.


International Competition
1998 Ecoair Gymnastics Cup, Zoetermeer, NED; 2nd-AA, 7th-V, 4th-UB, 3rd-BB, 3rd-FX
1997 Trophee Marseille, Marseille, FRA; 5th-Team, 19th-AA
National Competition
1999 American Classic/Pan Am Trials, Pomona, Calif.; 3rd -AA
1998 John Hancock U.S. Gymnastics Championships, Indianapolis; 8th-AA, 21st-V, 2nd-UB, 8th-BB, 7th-FX
1998 U.S. Classic, San Antonio, Texas; 4th-AA, 13thV, 4th-UB, 5th-BB, 16th-FX
1998 American Classic, Orlando, Fla.; 10th-AA, 23rd-V, 10th-UB, T4th-BB, T17th-FX
1997 John Hancock U.S. Gymnastics Championships, Denver, Colo.; 20th-AA, 30th-V, 18th-UB, T27th-BB, T19th-FX
1997 U.S. Classic, Seattle, Wash.; 9th-AA
1996 Coca-Cola National Championships, Knoxville, Tenn.; 25th-AA (Jr. Div.)
1996 U.S. Classic, Colorado Springs, Colo.; 19th-AA