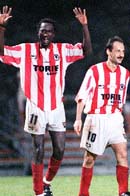 BY S GULAM
Sept 28, 1998
ON the field, he's a one-man destruction machine.
Big, strong, fast, skilful and deadly, both in the air and on the ground.
To stop Tanjong Pagar United, you had to stop him.
Balestier Central coach P N Sivaji knew it very well.
For he was once his team manager.
But Sivaji, who was Tanjong Pagar's manager-cum-technical director last year, just didn't have the man to stop him.
"He was all over us. (Nathaniel) Naplah did a good job trying to mark him.
"But it was just not good enough. How to stop a giant?" said Sivaji.
The man he was talking about was Nicodeme Boucher.
TALLEST PLAYER
Tanjong Pagar's French striker who at 1.97-metres is the tallest player in the S-League.
Boucher was full of fire on Saturday night as he scored two goals and created the other two for Majid Motlagh and Nahar Daud in the Tiger Beer Singapore Cup encounter.
It enabled the Jaguars to maul the Tigers for the first time this season.
The two goals took Boucher's tally to eight this season.
That's despite his return to the S-League only midway through the season.
He had gone home at the end of last season after the Jaguars turned down his demand for a higher salary.
But some suspected that his decision to leave was more due to the bad treatment he received from opposing defenders than just money.
A number of nasty challenges saw him complain bitterly about how some defenders tackled him with the intention to hurt.
"They are killing me and my talent," he moaned then.
But on Saturday, he had no complaints.
"It's better now," he said.
"Why? I think strikers are better protected now with the ban on the tackles from behind."
So was it his best game so far?
"No. I've had two or three better games before," said Boucher.
"But I enjoyed this game very much. Why? We were under tremendous pressure to win."
It would have been a closer fight but for Boucher's aerial prowess. He was simply unstoppable.
As SAFFC coach Vincent Subramaniam, one of Boucher's admirers, said: "He's a terrific finisher. His height is a threat to any defence."
So how's the giant off the field?
You might probably not meet a more affable footballer. He's gentle, soft-spoken, full of smiles and very well-mannered.
"Thank you very much," he said after the interview.
We've not heard the last of this gentle giant.
IS IT ALL OVER FOR BALESTIER?
"FAR from it. The battle is not over till it's really over," said a defiant P N Sivaji, the Tigers' (Balestier Central's nickname) coach.
The Tigers have collected only one point from three matches.
So can they still qualify for the semi-finals?
"The chances are not high. But there is still some chance," said Sivaji.
"Marine Castle's shocking win over Woodlands (Wellington) has thrown us a lifeline.
"If we win the remaining three matches, we can still make it. Either as the group winner or as the runner-up.
"You can't discount anything in this group. It's not for nothing that this group is called the Group of Death."
SATURDAY'S OTHER RESULTS
SAFFC 2 Home Utd 0
Woodlands 0 Marine Castle 2
Geylang 2 Tampines 0
Sembawang 1 Gombak 2
TOMORROW'S FIXTURES
Home Utd v SAFFC
Tanjong Pagar v Woodlands
Balestier v Marine Castle
Geylang v Sembawang
Tampines v Gombak