Home of The Beautiful Game.....Back to Stadia
Parc des Princes home of PARIS ST. GERMAIN
Web Site | Description | How to Get There | Best thing about | Best Games | Prices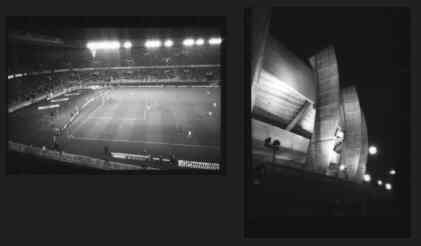 Inside and outside Parc des Princes
Basically, Parc des Princes is a huge concrete bowl. But what a concrete bowl, most of us have seen it on TV as its the stadium used for France's home games in Rugby Union's Five Nations championship. In French football, it often plays host to the French national side, but in club football it's the home of Paris St. Germain - currently the leading force in French football. In many ways there's not a great deal to describe of the Parc, fundamentally the stadium consists of two tiers that encircle the pitch without a break. The bottom tier widens at the half way line, as well as behind the goals. The upper tier is similar, but apart from behind the goals is much deeper than the lower tier. It's quite steep, and the view from near the back is quite poor, but overall most of the middle areas of the ground provide a decent view.
Er.. yeah. take the plane to Paris Charles de Gaulles, and it'sin Bois de Boulogne, actually the Peripherique (the inner city motorway of Paris) runs under one corner of the stadium, so by car, you'd have to get on that. Parking in Paris is generally a nightmare so I imagine it's the same here.
French footballis pretty dire, though very technical, but the PSG fans are quite mad, and generally keep up a cacophony for the full 90 minutes.
Like many, the big European nights are special.It will be used during France '98 too.
Apart from the cost of gettin there! Tickets range from about 60FF to 300FF (about nine quid to 40!)
Page last updated: 1st January 1997. Any comments, errors, get in touch: Andrew Thomas.