The Home of The BeautifulGame....Back to Culture
Football Culture: 1996 Coca-Cola Adverts




Admittedly, multi-national organisations don't exactly do the world anygood. But, the Coca-Cola adverts that first appeared around the time of Euro '96 were really fantastic. The best part was the TVadvert that came in short (15 second) and long (30 second) versions. It's mainly in black and white but with some frames tinged with red such as the pictures of fans with fares and the flashing "Eat Football, Sleep Football, DrinkCoca-Cola" signs.The music to the ad was a mix of 'Eat My Goal' by a Collapsed Lung. There was also a number of full page adverts that appeared in magazines, with black and white pictures and slogans like "If teams could transfer fans, what would you be worth?"
Here you can see the magazine adverts full size, or view a selection of images from the TVad , and find out about the music!
Of course Coca-Cola have a home page too.
There but for supreme fitness, years of training and want of natural talent, go I.

One day you will see a goal so beautiful, you will want to marry it

Half time is there to remind you what life would be like without football

If teams could transfer fans, what would you be worth?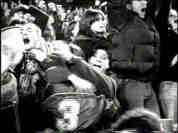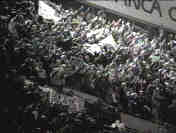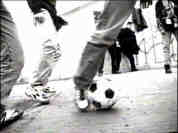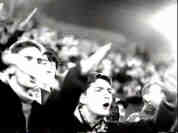 Eat My Goal by "Collapsed Lung", available on the B-side of the single London Tonight, also available as a bonus on the first presses of the album: Cooler.
There is a Collapsed Lung home page (but it's not up to date last I looked)