INTRODUCTION
The purpose of this site is to provide you with some creative wads that I made myself. I made them just for deathmatch play with my brother, and we had so much fun that I decided to share them. I wanted to make a multisport stadium, but it turned out too big and full of bugs, so I left the baseball part and I went through heck to eliminate the bugs familiar to wads with wide open spaces.
This wad was tested through many hours of deathmatch play with my brother, Robert, who graciously provides most of the narrative throughout the DOOM page :) (http://www.geocities.com/Area51/Corridor/4375/ a little plug there.)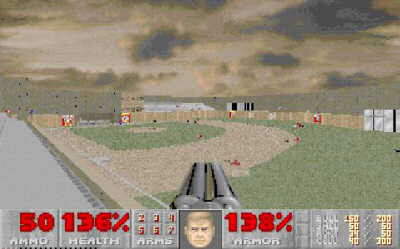 TITLE: Ballpark
FILE NAME: Ballpark.wad
AUTHOR: Jesus R. Olivera
E-MAIL ADDRESS: [email protected]
DESCRIPTION: Just when you thought it was safe to go to a damn baseball game.. Think again you bastards! The umpire is hungry and he's gonna bite your butt for fresh meat. If you feel in the romantic mood and want to go BEHIND the stands with your girlfriend, take a couple of bazookas with you.. The Dominator is gonna ask for the first dance. All weapons available. All enemies are present and accounted for. It is a rough ride, so fasten your god darned seat belts. However, it CAN be finished without cheating! This wad is designed to blow up your system in case you type IDDQD or IDKFA.. in fact, any darned word that begins with ID!.
Additional credits to Robert Olivera ( be sure to check out the following site (http://www.geocities.com/Area51/Corridor/4375/) Darn, the free plugs never end.
---
PLAY INFORMATION
Episode and Level No: E1M1
Single Player: Yes
Cooperative Play: I guess
Deathmatch: Yes! (Excellent)
Difficulty Setting: Yes
New Sounds: No
New Graphics: No
New Music(s): No.
Demos Replaced: None
Construction: At the very least 120 hours.
Base: New Level From Scratch
Editors Used: Waded (registered version--The best there is!)
Known Bugs: None noticed through countless hours of Deathmatch
Copyright / Permissions: Authors may use this level as a base to build additional levels. You may distrubute this wad provided you include this file with no modifications. You may distrubute this file in any electronic format as long as you include it intact.
DOOM 1/DOOM2 is a registered trademark of ID. Software. In no way, shape, or form is this site affiliated with ID Software. It is not done for a monetary profit.
DOWNLOAD DOOM WADS