El Paso? That's in New Mexico, right?
Don't feel bad if you answered yes to that LOL Most Texans seem to know we are part of Texas, but they treat us as though we belong to New Mexico.



So....this is for them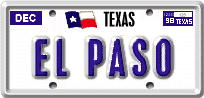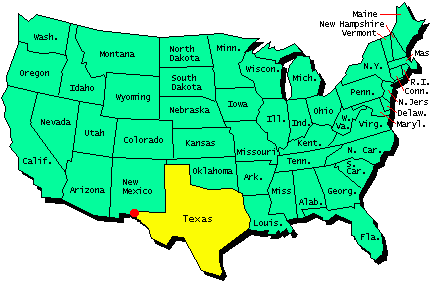 Just where is El Paso? If you follow the Rocky Mountains to their southernmost point, you will find the city of El Paso, Texas. Wrapping around the Franklin Mountains, El Paso is nestled in the region where Texas, New Mexico, and old Mexico meet. Would you like to take a closer look at the interactive maps?

Though El Paso is a part of Texas, it is nowhere near being in the heart of Texas. It takes longer to drive to east Texas than it does to get to Los Angelas. Our physical isolation from the rest of Texas doesn't mean we're stuck out here in the middle of nowhere.

To our south, just across the Rio Grande river, you'll find the sprawling city of Juarez, Mexico. Just a couple of hours driving can take you to White Sands National Monument, Carlsbad Caverns, Hueco Tanks State Park, Sunland Park Race Track, or Alamogordo, New Mexico.
Copyright ©1997-2001 Charlene C. Schaar
All rights reserved.